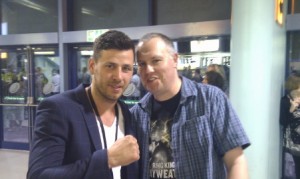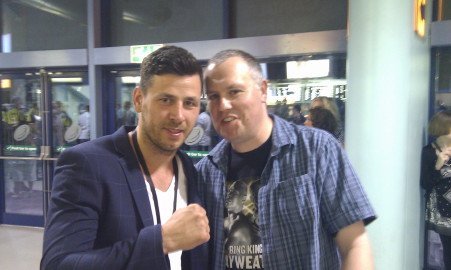 What a rollercoaster night of emotions British boxing fans experienced last night! In Cardiff, Wales, unbeaten WBO light-heavyweight champ Nathan Cleverly was the victim of one of the most one-sided beat-downs seen, as the lethal-hitting monster that is Sergey Kovalev won by crushing yet at the same time seemingly effortless fashion.
Simply put, the fight was no contest from the start, as the Russian terror knocked the unbeaten Welshman senseless, to the point where the referee was all but holding Cleverly up at the end of that torrid 3rd-round. The slaughter should have been stopped then, as Cleverly was totally gone and seemed out of it as he sat on his stool. Cleverly actually appeared to come to in the corner and he was allowed out for the 4th. The inevitable was swift in coming, however.
The very real question now is can Cleverly, 26-1(12) possibly come again? Last night's brutal beating may well have ruined a promising young fighter. Kovalev showed he is no hype job and his future looks as bright as can be. Along with Gennady Golovkin and Lucas Matthysse, Kovalev is one of the scariest, purest punchers out there today. Is there any light-heavyweight who can live with his 22-0-1(20) punching?
Over in Atlantic City, Barnet's Darren Barker gave British fans something to cheer about as he won a FOTY candidate in taking tough Australian Daniel Geale's IBF middleweight title with an incredibly gutsy display of nerve, heart and sheer will. Somehow surviving a wicked 6th-round body shot knockdown, Barker, winded and on the brink of defeat, sucked it up and roared back to hurt Geale, 29-2(15) at the end of an astonishing round.
Fighting like a man possessed at times, Barker, the memory of his late brother driving him on, would not be denied. The action was excellent from the first bell to the last and an enthralling slugfest treated the fans – the legendary Larry Holmes among them. And the back story, known to all those fans who know how much Barker has been through – the tragic death of his brother, his serious injuries and his enforced inactivity – really made last night's fight and win a special, never to be forgotten night.
Barker, one of boxing's genuine good guys, fought his heart out and showed how never giving up on a dream can pay off eventually. Barker, 26-1(16) has been through hell and he is on the good side now. What else can you say to him but well done!
British fight fans shed tears last night; tears of sorrow as well as tears of joy!