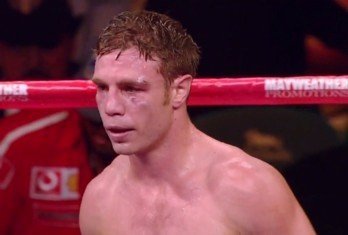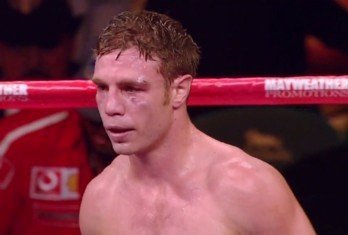 As fight fans may have read, always thrilling Australian warrior Michael Katsidis is set to make a ring return. Reunited with long-time trainer and friend Brendon Smith, Katsidis, the former WBO interim lightweight champion, is scheduled to box in Australia in March (against a TBA, likely to be of the tune-up variety) but the 33-year-old is already looking at a bigger fight.
Katsidis, 28-6(23) has called out Adrien Broner, asking for the match-up on both his Facebook and Twitter accounts. Broner of course, has to make a ring return himself, having been beaten up and defeated by Marcos Maidana a few weeks back. Maybe a fight with the dangerous Katsidis will interest Broner as he attempts to prove his first loss has not ruined him.
Of course, nobody knows how much, if anything, Katsidis has left to offer, and we all know how much punishment "The Great" has endured in his many epic rumbles. Still, we are also in the dark as to how badly affected Broner might have been, and will continue to be, by the Maidana beating. Broner has way less wear and tear on his mind and body than Katsidis does, yet the fight – as a comeback duel for both men – could make sense.
Katsidis, who has not boxed since losing a thriller (what else!) to the little-known Albert Mensah in April of 2012, believes he would knock Broner out in a meeting at 140-pounds.
"Broner doesn't have the chin or the movement even at 140 to beat me," Katsidis wrote.
And, "Having watched the Maidana VS Broner fight – I think I would knock Adrien Broner out."
The prime Katsidis – the relentless blood and guts warrior who battled top names such as Joel Casamayor and Juan Manuel Marquez and defeated good fighters like Graham Earl, Czar Amonsot and Kevin Mitchell – would, in my opinion, have tested Broner hard. But today, after all those wars – who knows?
Of course, Broner is reportedly interested in sticking around at welterweight and going straight into a rematch with Maidana. As such it's likely "The Problem" will not even look Katsidis' way. But an instant return with a man who has beaten you up can prove to be a very bad idea indeed. Broner surely needs to tackle someone other than Maidana in his next fight and Katsidis, a true fan-friendly operator, is ready, willing and able to accommodate him.
At least Katsidis will be ready, willing and able should his March return go as planned. Until then, and maybe even afterwards, Katsidis' comeback will be one that is frowned upon by a good number of dubious fans.