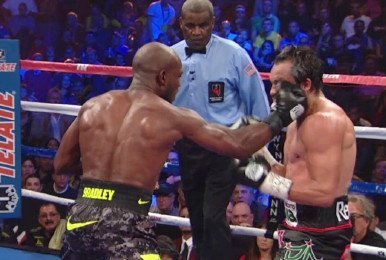 If Manny Pacquiao chooses not to fight WBO welterweight champion Tim Bradley in a rematch on April 12th, and instead face his former sparring partner Ruslan Provodnikov, then Pacquiao's promoter Bob Arum is interested in putting together a rematch between Bradley and Juan Manuel Marquez. Presumably the Bradley-Marquez fight would then be the co-feature for Pacquiao's bout against Provodnikov in April.
It makes a lot of sense to have Marquez on the card, because without Marquez, who Arum wanted to face Pacquiao in a 5th fight, Pacquiao's next fight might not bring in the huge pay-per-view numbers that he's been accustomed to getting in the past when matched against Marquez and Miguel Cotto. Arum has struck out when matching Pacquiao against Bradley, Joshua Clottey and Brandon Rios in getting big PPV numbers.
Pacquiao can't be matched against anyone for him to get big PPV numbers. He's needs someone that people actually care about. Obviously, Arum blew it by putting him in with Clottey, Rios and Bradley. But by having Marquez on Pacquiao's April 12th card, it's possible that the fight card might still break 1 million buys even with Pacquiao facing Provodnikov rather than Marquez.
"If Manny decides to fight Provodnikov, then we can try and make a Bradley-Marquez match-up," Arum said to the reviewjournal.
As good as a Pacquiao-Provodnikov fight is, it's probably not a fight that will attract a lot of casual boxing fans on PPV. It's a good fight for hardcore boxing fans who have seen Provodnikov fight in the past, but chances are very high that casual fans don't know who Provodnikov is and they're probably not going to respond in large numbers to purchase this fight on PPV – unless Arum places someone like Marquez on the undercard.
Marquez could be the savior for the card if Arum can get him to agree to fight on it. However, trying to negotiate a fight between Bradley and Marquez could prove to be difficult because Bradley will likely want a lot of blood testing, and that might make negotiations difficult.