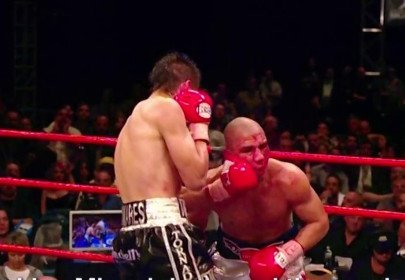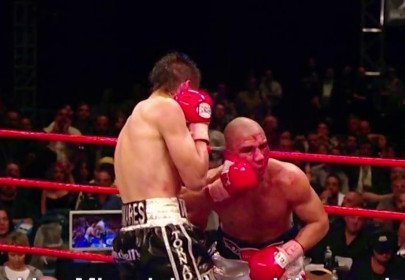 While the proposed June 7th fight between Miguel Cotto (38-4, 31 KO's) and WBC middleweight champion Sergio Martinez (51-2-2, 28 KO's) still hasn't been negotiated, Roy Jones Jr. chimed in on his thoughts about the fight anyway. He sees the fight coming down to a couple of things.
If Sergio boxes Cotto, then his chances of success increase dramatically. But if Cotto is able to turn the fight into an inside war like he did in his last fight against fringe junior middleweight contender Delvin Rodriguez then that gives Cotto an excellent chance of beating the soon to be 39-year-old Sergio.
"For Cotto, he's got to come out aggressive and immediately get to his body, his head and stay on top of him," Jones Jr. said to Hustleboss. "Don't let him rest and fight the way he wants to because he's old."
What Jones Jr. is saying is kind of obvious. You don't let Cotto get in close to throw his short hooks to the body, especially now that Cotto's trainer Freddie Roach has Cotto throwing nonstop left hooks. That style works against stationary fighters, but it's not a style that is effective against guys that use their jabs and move a lot. This means that unless Sergio's legs aren't able to carry him around the ring on June 7th, he should win a comfortable 12 round decision over Cotto, and possibly even stop him. Cotto isn't any better than he was before being trained by Roach. The only thing that's changed is that he recently was given a soft touch in Delvin Rodriguez. If you put Cotto back in with Austin Trout and Floyd Mayweather Jr., the last two guys that beat him, I have no doubts that Cotto would lose to both of them again.
Cotto turned down a huge payday of over $10 million for a fight against Saul "Canelo" Alvarez for the Sergio fight. It would be incredibly disappointing if his fight against Sergio fails to materialize due to the two fighters being unable to negotiate the fight. Cotto wants to win a 4th division world title, and Sergio is the vulnerable champion at 160 right now. Cotto would probably be wasting his time to fight the best guy at 160, Gennady Golovkin. But Sergio might be old enough for Cotto to pick him off at this point in his career.
If Cotto loses to Sergio Martinez then he can forget about a fight against Canelo. However, that doesn't mean that Cotto won't be able to get a big money fight against Manny Pacquiao. His promoter Bob Arum would still likely jump at the chance of matching Cotto against Pacquiao in 2014 or 2015, even if Cotto was coming off of a defeat to Sergio Martinez. Look at Pacquiao's last opponent Brandon Rios. He had been defeated in his previous fight against Mike Alvarado, yet he was still matched up against Pacquiao.