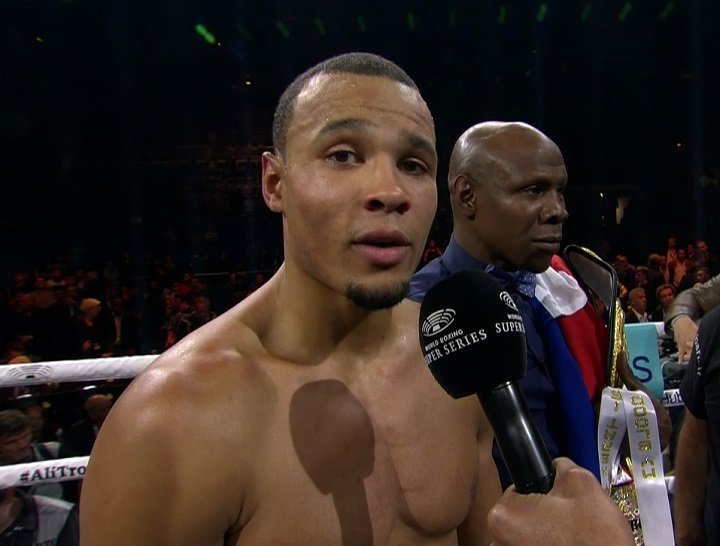 With the (apparent) retirement of superstar Floyd Mayweather Junior – "apparent" because there are still some suggestions that say the 40 year old will indeed box again – Floyd himself denying any such notions; for now at least – who is the current biggest star in US boxing? The probable answer is Canelo Alvarez; the Mexican hero being hugely popular in many countries other than his own, America included.
But one man who has already made a biggish name for himself in his homeland of England, Chris Eubank Junior (who of course has benefited, publicity-wise, from his last name) says he will become "the next star in America." The once-beaten super-middleweight (Eubank Jr. actually being unbeaten as a 168 pounder, the loss, a decision, coming to Billy Joe Saunders down at middleweight) told Sky Sports that he will, very soon, have his name "up on the side of The MGM" and that he will light up both Vegas and New York.
"That's the ultimate goal for any fighter, to fight in those big casinos, on that strip in Las Vegas, Madison Square Garden, New York – all those iconic venues," Eubank Jr. said. "Chris Eubank Jr. will [become the next star in America] in the not too distant future. Listen, I've made a great name for myself in this country (his own) and I will continue to do so, but it's always been a dream of mine to transform that name over to the America soil, where so many great fighters have proven themselves and become legends."
Eubank, 26-1(20) has a long way to go yet, but should he defeat British rival and reigning WBA super-middleweight champ George Groves in February and then go on to win the WBSS tournament outright, then the outspoken Brighton man might get his name up in those lights as he craves. Just recently, all-time great James Toney told British star Anthony Joshua that he needs to "put on his big-boy pants and fight in the US" if he's to become the global star he wants to be.
Clearly, Chris Eubank Jr. agrees with what Toney was saying. The US is still the place to make it in this great sport. Now, will American fans celebrate Eubank in such a big way?