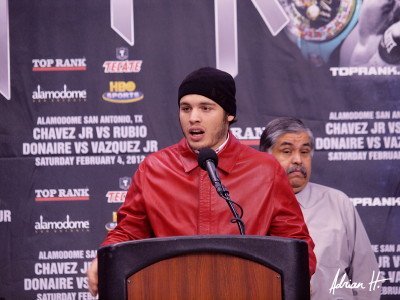 (Photo credit: Adrian Hernandez) By Rob Smith: In an interesting development former WBC middleweight champion Julio Cesar Chavez Jr. (46-1-1, 32 KO's) is now coming out after nearly three weeks to comment on his positive marijuana test result for his last fight against Sergio Martinez last month on December 15th. Believe it or not, Chavez Jr. is saying that he never actually smoked the marijuana that he tested positive for. Instead of smoking it, Chavez Jr. says he drank with his tea.
Chavez Jr. said this as quoted by the Record.com.mx "In California it is legal cannabis (marijuana), so I was told, it would help me sleep and relax, and when I checked with the doctor told me that the only problem was the smoke, so I made a tea or few drops … and that's what I took, but I have never smoked marijuana…I have problems with nerves…I am not a drug addict."
A doctor? So we've got another fighter that is under the doctor's care for a banned substance. We had IBF/WBA light welterweight champion Lamont Peterson come and say he was under a doctor's care when he tested positive for synthetic testosterone while training for a rematch with Amir Khan. Peterson failed to notify the Nevada State Athletic Commission ahead of time that he was using the testosterone. How It's Chavez Jr. saying he was using marijuana which he never actually smoked after speaking with a medical doctor.
I'm not sure where Chavez Jr. is going with this. I don't believe that the Nevada Commission will care much how the marijuana was used. It's a banned substance whether it's smoked, added with tea or eaten with brownies. I don't see that changing anything at all I'm surprised Chavez Jr. even bothered to mention that. His focus should be on this doctor that he's talking about. The question is did Chavez Jr. get a prescription to use the marijuana, and is so why didn't he show it to the Nevada Commission?