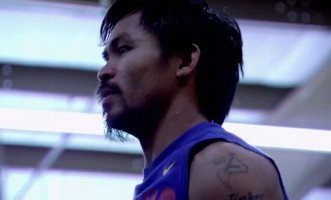 By Rob Smith: Manny Pacquiao will be starting his training camp on October 15th with trainer Freddie Roach at the Wildcard Gym in Los Angeles, California. Pacquiao and Roach plan on trying to take Pacquiao back to where he was in his earlier days when he was a seek and destroy fighter. For whatever reason Pacquiao has evolved into a slow plodder that moves with great effort, can't cut off a ring very well, and who only fights hard for the last 30 to 40 seconds of every round. Pacquiao thinks he can get back to the form of his early youth by working out harder.
Pacquiao is currently being put through his paces by one of his team members Buboy Fernandez, but this isn't the official start of his training camp.
As for Marquez, he's already busy working out in the mountains of Mexico and is reportedly training at the 15,354 foot Nevado de Toluca, in the mounts of Mexico to work on his conditioning. According to the Manila Bulletin, Marquez plans on working at high altitude for 10 days to build up his endurance for the Pacquiao fight. It seems that Pacquiao should be the one working in the mounts because his conditioning as well as his legs have been a problem for him since his fight with Joshua Clottey in 2009. Pacquiao's movement has all but disappeared and he now moves around the ring in a slow shuffle.
Marquez is hoping to get the judges to finally give a decision after having fought enough to beat Pacquiao on three prior occasions. It's probably going to take a lot of aggression to win over the judges, because they don't seem to have paid much attention to Marquez's ring generalship in the past three fights with the Filipino. Marquez might need to really take it to Pacquiao to ensure that he gets the win this time out.