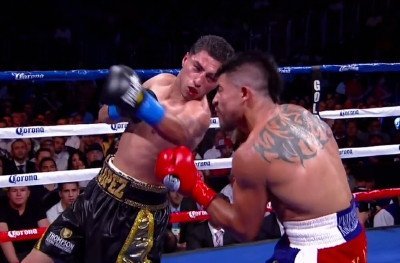 By Robert Jackson: Longtime 140lb contender Josesito Lopez will be facing 154lb champion Saul 'Canelo' Alvarez on September 15, 2012; so what are his chances of the fight ending in victory for him??
Coming off of a 9 round stoppage of Victor Ortiz in his first BIG fight at 147lbs it would seem as if the Riverside, California native has a good chance to dethrone Alvarez. But if you look a little deeper, Lopez' record, it is littered journeyman fighters, and, other up-and-comers that unlike himself haven't separated themselves – haven't yet arrived. It can also be speculated that Ortiz dismissed and underestimated the very determined Lopez, after all Lopez said the same in the build up to their June 2012 fight.
What doesn't need to be said is that Lopez DID defeat Ortiz in dramatic fashion when Ortiz failed to answer the bell for the 10th round after suffering a broken jaw in two places during the fight. A testament to Lopez punching power or poor boxing fundamentals by Ortiz who fought that night with his mouth open for many rounds of the fight?
Lopez' opponent for their September fight Canelo Alvarez of late has stepped up his opposition as he's developing into a well rounded fighter and champion. In his last 5 bouts, he's faced journeymen and contenders with a combined record of 188-23-8, all wins, including 3 KO's. Of Canelo's last 10 bouts, he's faced some of the more recognized fighters in the business including, Lovemore N'Dou, Kermit Cintron, Jose Cotto and Sugar Shane Mosley – who was definitely on the downside of his career when they met and retired shortly after losing to Alvarez.
To answer the question as to Lopez' ability to defeat Alvarez, one just need look at the Lopez mindset which is based on him having a 'chip on his shoulder', and 'something to prove'. Lopez comes to the ring mentally determined to 'bring it' and 'overcome adversity', and as any boxing professional will tell you fighting is 25% physical and 75% mental. If this was all that Lopez needed to be victorious I would end here saying that Lopez will win absolutely and become champion on September 15, 2012. But then that would be dismissive of me. Ortiz was looking forwards to facing Canelo cause Golden Boy Promotions in their haste to secure an opponent for Alvarez pre-matched Alvarez and Ortiz PRIOR to his already scheduled match with Lopez. This one move shifted Ortiz' focus AHEAD instead keeping him focused on his present opponent at the time – Josesito Lopez. One could only imagine the $$ signs Ortiz was seeing, Ortiz was probably counting his money.
With these facts in mind, Lopez though very determined will be facing a bigger, stronger, equally determined fighter who will not overlook him like Victor Ortiz made the mistake of doing. Lopez will put up a valiant fight and probably take more than he gives. In a very exciting fight Lopez will do well early but fade into the middle rounds of the fight as the stronger man exerts his WILL over the smaller man. Despite Lopez' courage and determination this fight will be stopped during the late rounds of the fight with either man being victorious, but unfortunately it won't be Lopez. Alvarez will win by late rounds stoppage of Josesito Lopez, but it may be controversial.