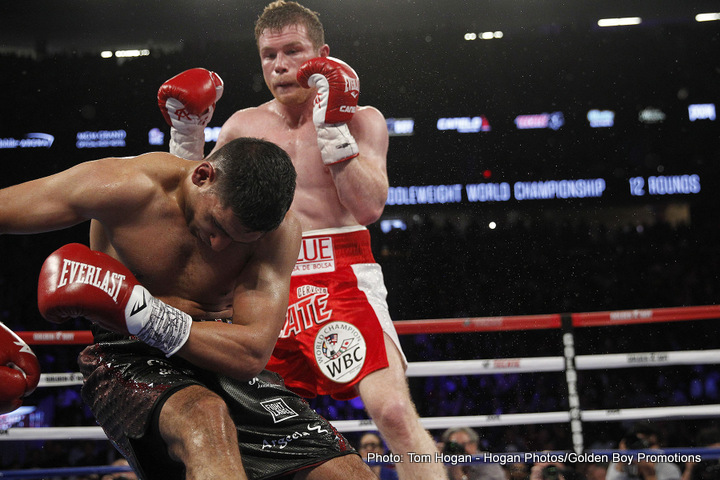 All eyes were on the T-Mobile Arena in Las Vegas on Saturday, May 7 asWBC, Ring Magazine and Lineal Middleweight World Champion Canelo Álvarez (47-1-1, 33 KOs) successfully defended his titles in a brilliant performance with a vicious knockout of former two-time world champion Amir "King" Khan (31-4, 19 KOs) in the sixth of 12 scheduled rounds.
In the beginning, Khan's speed proved to be tricky for Canelo, as he unleashed his famous 'punches in bunches' in rounds one and two.
In round three, Canelo and Khan both showed movement around the ring coupled with exchanges including a mid-ring flurry of punches from both fighters. But it was in round six that Canelo demonstrated for the crowd his famous power, landing a right hook and knocking Khan straight onto his back on the canvas, ending the fight by knockout.
"He is a fast fighter, and I knew things would be complicated in beginning, but I knew they would come to my favor as the fight went on," said Canelo Álvarez. "People have known me only for my power. I have many more qualities in the ring, and I showed that. I think people saw more of me tonight. Someone that comes in to box gives you more trouble and someone that comes right in is a little easier to fight."
"I want to thank everyone for coming," said Amir "King" Khan. "I think it's time for Canelo to step up to GGG, just like I stepped up to fight him. I tried as much as I could and trained very hard for this fight. Unfortunately, I didn't get the result I wanted. Although I feel strong at this weight, I am naturally a lighter fighter and plan to go back down to welterweight. But, I like to challenge myself and that is why I took this fight. I want to be the best, and to be the best I have to fight the best."
"That was the most devastating knockout I have seen from Canelo," said Oscar De La Hoya, chairman and CEO of Golden Boy Promotions. "I believe it was more devastating than the Kirkland knockout."
"We took the risk with no concessions," said Virgil Hunter, trainer to Amir Khan. "Amir has set the tone. He took the risk and did it."
Attendance for the mega-event tonight at the new T-Mobile Arena was 16,540, and saw celebrities in attendance including singers Roberto Tapia, Billy Joel and Daddy Yankee, actor George Lopez, chef Gordon Ramsay, actor JenCarlos Canela, Dallas Cowboys owner Jerry Jones, actress Anna Paquin, Mario Lopez, former Spice Girl Melanie C, Metta World Peace, and model Ana Cheri. They were joined by boxing legends new and old including Roberto "Manos de Piedra" Duran, Evander "The Real Deal" Holyfield, Lennox "The Lion" Lewis, Fernando "Ferocious" Vargas, Mike "Iron" Tyson, Michael "Jinx" Spinks, Pernell "Sweet Pea" Whitaker, Luis "King Kong" Ortiz, Jorge "El Nino de Oro" Linares, Joseph "Jojo" Diaz Jr., Lucas "La Maquina" Matthysse, Andre "S.O.G" Ward, Andre Berto, Gabriel Rosado, Sadam "World Kid" Ali, and Gennady "GGG" Golovkin.
Canelo vs. Khan, was a 12-round fight for Canelo's WBC, Ring Magazine and Lineal Middleweight World Championships, is promoted by Golden Boy Promotions in association with Canelo Promotions and sponsored by "Cerveza Tecate, Born Bold," O'Reilly Auto Parts, Casa Mexico Tequila, DOOM® — Fight Like Hell on May 13, and HANDS OF STONE: The True Story of Roberto Duran, in theaters this August. David Lemieux vs. Glen Tapia was presented by Golden Boy Promotions in association with Eye of the Tiger Management, and Patrick Teixeira vs. Curtis Stevens was presented by Golden Boy Promotions in association with Main Events. The mega-event took place Saturday, May 7 at T-Mobile Arena in Las Vegas and was produced and distributed live by HBO Pay-Per-View beginning at 9:00 p.m. ET/6:00 p.m. PT.