Share the post "Canelo stops Khan – "I will put on the gloves again and fight Golovkin""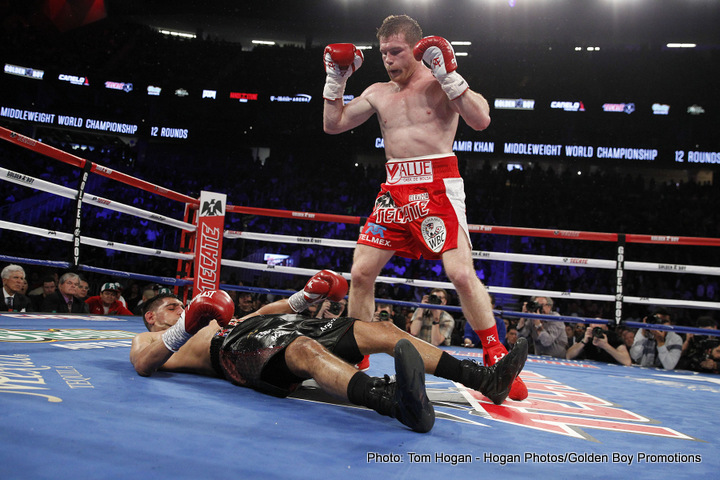 Saul "Canelo" Alvarez KO 6 Amir Khan – Canelo Alvarez: "He is a fast fighter, and I knew things would be complicated in beginning, but I knew they would come to my favor as the fight went on. People have known me only for my power. I have many more qualities in the ring and I showed that. I think people saw more of me tonight. Someone that comes in to box gives you more trouble and someone that comes right in is a little easier to fight."
Regarding Gennady Golovkin
"I invited him to come to the ring. Like we say in Mexico 'we don't f*** around.' I don't fear anyone; we don't come to play in this sport. I fear no one in this sport. Right now I will put on the gloves again and fight him."
"I didn't make it to the end, but I tried my best," said Amir "King" Khan. "I want to be the best, and I want to fight the best. That is why I took this fight."
"I want to thank everyone for coming," said Amir "King" Khan. "I think it's time for Canelo to step up to GGG, just like I stepped up to fight him. I tried as much as I could and trained very hard for this fight. Unfortunately, I didn't get the result I wanted. Although I feel strong at this weight, I am naturally a lighter fighter and plan to go back down to welterweight. But, I like to challenge myself and that is why I took this fight. I want to be the best, and to be the best I have to fight the best."
David Lemieux TKO 4 Glen Tapia
David Lemieux, 35-3, 32 KOs:
"This victory means the world to me," said David Lemieux. "It proves all the doubters that Lemieux is back. When I first got offered this fight, I knew that it wasn't going to be easy. We made sure to have the best training camp possible and within the first round I knew I was dominating. I knew after the first round that I would knock him out. I'm ready to be among the best in the middleweight division and become a world champion again."
Glen Tapia, 23-3, 15 KOs:
"I'll be back," said Glen "Jersey Boy" Tapia. "This wasn't my day at all. He got me from the first round. I kept thinking that id get started but I never did. I'm ready to come back. I took a big chance and it didn't go my way but I'm not done yet.
Freddie Roach:
"He was getting hit too much. He wasn't doing what we planned to do and when I saw him go down, I knew what I had to do to protect my fighter. He was taking too many punches."
Frankie Gomez UD 10 Mauricio Herrera
Frankie Gomez, 21-0, 13 KOs:
"It feels good to get this victory," said Frankie "Pitbull" Gomez. "I trained really hard and it paid off. I'm ready to take on my next challenge and take on the best at 140. I want to thank my fans, and I'm glad I was able to put on a good show for them."
Mauricio Herrera,22-5, 7 KOs:
"It wasn't my night," said Mauricio "El Maestro" Herrera. "I never give up and my fans know that. I hope to be back in vegas soon because I'll go anywhere for a fight."
Curtis Stevens TKO 2 Patrick Teixeira
Curtis Stevens, 28-5, 21 KOs:
"The name of the game is to knock people out and that's what I did tonight," said Curtis Stevens. "I feel great to get back into the game after my one and a half year break. I really want Lemieux, but I will take whatever I can get. My head is right, and I'm ready to take on whoever."
Patrick Teixeira, 26-1, 22 KOs
"Throughout the fight, I didn't know if I was winning or losing," said Patrick Teixeira. "This fight was not how I expected it to go."
Diego De La Hoya, 15-0, 9 KOs:
"From the very beginning Shane Mosley has been talking about this being De La Hoya vs. Mosely III, and that inspired me to train really hard for this fight and focus on my speed and strength. This victory is satisfying to me because it shows all the hard work I put into my training camp. I wasn't expecting the knockout but it was very satisfying, and I believe the crowd enjoyed it. After that knockout, I knew he couldn't take anymore."
Rocco Santomauro, 13-1, 1 KO:
"I fought horrible tonight," said Rocco Santomauro. "I was very unfocused. I didn't agree with corner's decision to stop the fight. I feel physically well because I am a fighter and I'm going to keep on fighting. But, you know, all I can do is move forward. I have to keep going for my little girl."
Tonight's Attendance at T-Mobile Arena: 16,540