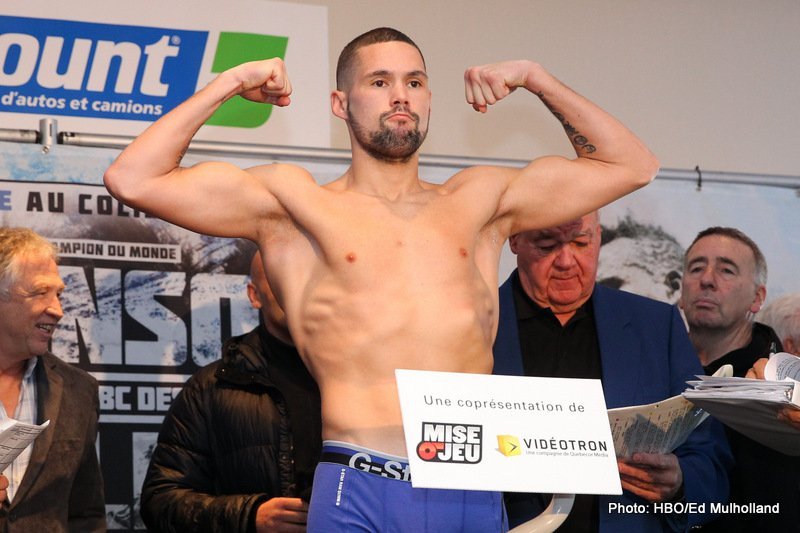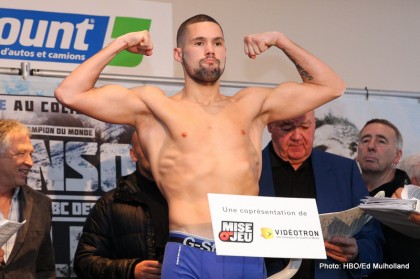 Tony Bellew (20-1-1, 12 KO's) looks to be headed for a knockout loss tonight against WBC light heavyweight champion Adonis Stevenson (22-1, 19 KO's) in their fight at the Colisee de Quebec, Quebec City, Quebec, Canada. Stevenson has been knocking guys out left and right lately, and it would seem that the tall, upright Bellew would be the perfect opponent for Stevenson to KO tonight to add his 20th knockout to his growing number of knockouts on his resume.
Bellew has done a great job of drawing attention to the fight with his hyperbolic statements, but at the end of the day he probably will end up getting knocked out quicker than Stevenson's other recent opponents have. Bellew hasn't been looking that great lately in his fights against Isaac Chilemba, Roberto Bolonti and Edison Miranda. Those were all fights that were more difficult than they should have been for a fighter ranked as high as Bellew, but they ended up being hard fights for him. He's not coming into this fight from anything impressive. His win over Chilemba in his last fight was more of a clinching affair than a fight where meaningful punches were thrown by Bellew.
It could be that the biggest thing that Stevenson has to fear tonight is if Bellew decides to hold and smother the entire 12 rounds to not give him any space to throw his shots. That was Bellew's strategy against the quicker Chilemba in their rematch last May. It worked but it was a difficult fight to watch as a fan due to the holding that was going on for 12 rounds. If that's the strategy that Bellew is going to use tonight, and it probably will be judging by Bellew's comments about negating Stevenson's offense, then Stevenson will need to land his power shots while Bellew is moving in to grab him each time in order to prevent him from just grappling for 12 rounds.