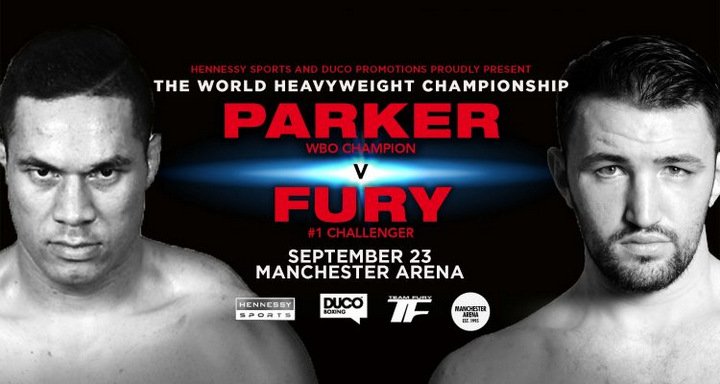 Unbeaten Hughie Fury, the less-vocal cousin of former world heavyweight king Tyson Fury, can talk when the mood suits him. And ahead of his September 23rd challenge of WBO heavyweight ruler Joseph Parker the 22 year old has made quite a bold prediction.
Speaking with WOTV, Fury, who is not known as an especially hard puncher, said he will knock Parker out in four rounds. If he can get a win in Manchester later this month, Hughie will have realized his dream of reigning as a legitimate heavyweight champ along with his cousin (Tyson still being the linear champ) – even if many fans still look down at the WBO belt, at least a little.
A win over Parker and the lifting of the WBO title would not be as big a deal as Tyson's upset win over lineal king Wladimir Klitschko in 2015, but with a victory Hughie would become a big player in today's heavyweight division.
"Four rounds. I would say four rounds – knockout," Fury said when asked for his fight prediction. "I'm super-confident. I have done all my sparring and I'm ready to go. I've been out [of action] for a while but it's done me good. I think Joseph Parker is a very good fighter and you can't take anything away from him, he's a world champion. It's going to be an exciting fight."
Postponed from May, when Fury suffered a lower back injury, Parker-Fury has not exactly lit the boxing world on fire in terms of hype and anticipation, but it should be an interesting fight. As for a KO inside four rounds, this would be one big performance from Hughie, a big statement. Parker, unbeaten and making his second title defence, has been in with bigger punchers than Hughie before, and he has not shown anything that would cause concerns as far as him having a weak chin.
On the contrary, Parker has looked solid, strong and very determined to win throughout his career. A distance fight looks far more likely on September 23. Big Tyson is sure to be ringside, or maybe even shouting out advice in or near his cousin's corner, and Manchester will be rocking if Hughie can make it two out of two; as in two Fury's winning a world heavyweight title.
As for Tyson's own career, the inactive giant is still waiting for a date for his UK Anti-Doping hearing to finally take place. Until it does, the 29 year old former champ who has never lost a fight will remain in limbo. Just what the hold up is nobody seems to know for sure.