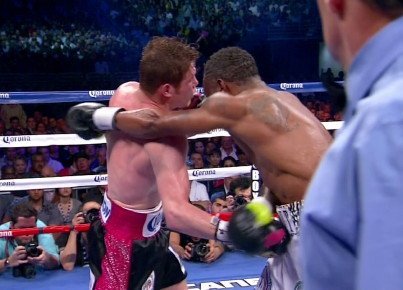 WBA/WBC junior middleweight champion Saul "Canelo" Alvarez (42-0-1, 30 KO's) isn't telling anyone what he plans on doing to beat Floyd Mayweather Jr. (44-0, 26 KO's) on September 14th, but if it's anything like how Canelo beat his last opponent former WBA junior middleweight champion Austin Trout last April, then I think Canelo is going to have to come up with a new plan on the drawing board because the Canelo that fought that fight loses to Mayweather.
If you watched Canelo beat Trout, you'll notice that Canelo incredibly economical with his punches in every round of the fight. He was clearly outworked by Trout, and the only thing that Canelo seemed to be doing was looking to land three or four hard shots in each round. That was pretty much the extent of it. It was a minimalist type of a fight by him, and the judges gave him round after round using that style. From my perspective, I thought Canelo wasn't doing enough to win the fight, but two of the judges had him winning by a lopsided decision by the scores 116-111 and 118-109.
I think Mayweather would be in trouble if he were to fight Canelo with judges that were going to Canelo rounds where he's only landing a tiny amount of shots. However, I don't believe that there are going to be a second set of judges that will give Canelo rounds if he continues to do very little and just sits back looking to land a few hard shots in the round.
If this is going to be Canelo's plan for beating Mayweather by doing little and just looking to land a hard shot here and there, then I see it doomed for failure because Canelo will need to do a lot more than that. I have a feeling he won't be willing to because he'll be like a lot of fighters are when they're fighting a counter puncher with blazing hand speed; they go into a shutdown mode where they throw next to nothing for fear of being countered. We saw that last Saturday night with Juan Manuel Lopez looking very nervous about letting his hands go because each time he would, Mikey Garcia would counter him with a fast left hook or right hand.