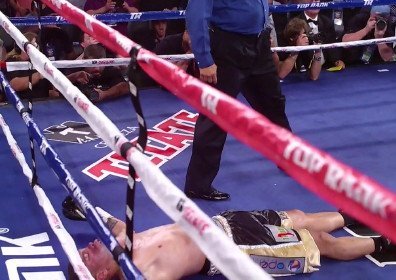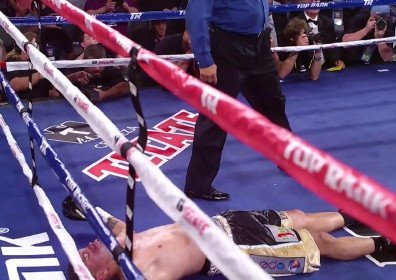 Dan Rafael of ESPN thinks former two division world champion Juan Manuel Lopez (33-3, 30 KO's) is over-the-hill and not the same fighter he once was following his 4th round TKO loss to Mikey Garcia (32-0, 27 KO's) last Saturday night at the American Airlines Center in Dallas, Texas. Juanma was knocked down two times in the process of getting stopped by the 25-year-old Mikey.
Rafael said on his twitter "Juanma has been as exciting as anyone in recent years, but the wars took their toll. He's all shot now. That is obvious. He's a shell…amazing that at one time Lopez-Gamboa was really a hot fight, until [Bob] Arum over-marinated it."
Rafael is referring to the proposed Juanma vs. Yuriorkis Gamboa fight that Arum had talked about but had put it off and put off saying he wanted the fight to marinate to build more interest so that both fighters would get a bigger payday. Unfortunately for them, himself and for boxing fans, Juanma was stopped in the 8th round by Orlando Salido in April of 2011, and then stopped again in their rematch in March of last year in a 10th round TKO loss.
Juanma sure did look shot against Mikey, but some of that could be the fact that he was fighting a very good counter puncher with a youth, speed and slight weight advantage. The deck was stacked against him in this fight because Juanma didn't have the skills to beat a fighter like Mikey, so it's not surprising that he lost. Mikey is hardly unbeatable, though, but you're not going to see Arum match him against the guys that would have a chance to beat him like Gamboa, Terrence Crawford and Guillermo Rigondeaux.
Those would be tough fights for Mikey, but it's likely that Arum will put him in with them because he's trying to build him up at this point. Juanma was like an old lion with a name for Mikey so that boxing fans would see Mikey's win and consider him the best. I don't know that he is. He might be at featherweight, but he can't make the weight.
Mikey will be moving up to super featherweight for his next fight. He still may come back down to featherweight and he plans on working on his diet to achieve that.