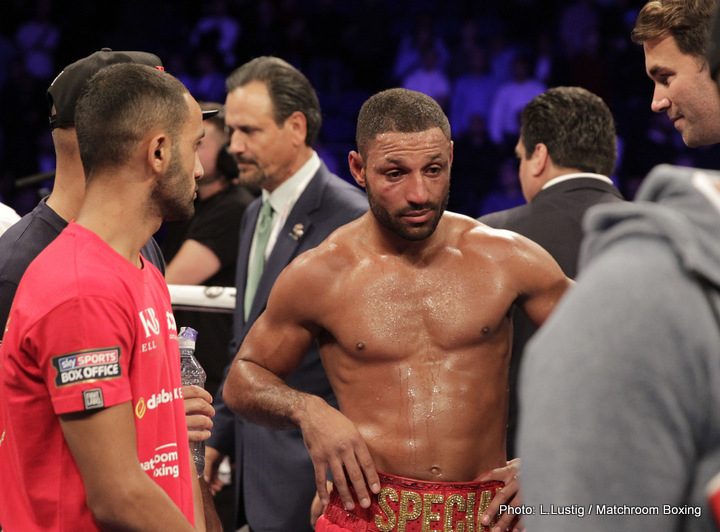 Following the latest round of Twitter exchanges between Kell Brook and Amir Khan it seems more likely than ever that this highly anticipated fight may actually be made for sometime in 2017.
Khan claimed the Brook wasn't on his level previously and that he need a win over a big name to turn himself into a viable opponent. Brook on the other hand has always publicly shown a willingness to test Khans 'whiskers' and get the fight on.
So why do we now seem to be on the verge of seeing one of the most talked about non-fights in recent history being made? The reason is simple, and it comes from the old boxing adage: it's not if you lose, but how you lose.
Both men are coming of off defeats, yet Khan was brutally and clinically dispatched by Canelo Alverez in a fight which offered little to boost his reputation. Brook on the other hand, despite being pulled out against the irrepressible Gennady Golovkin saw his stock rise more than in his previous 36 victories combined. So thanks to Khan's failed attempt at the impossible and Brooks bravery in the face of the best middleweight on the planet we find ourselves in an unlikely position. A position where both men genuinely seem to want and need the fight.
Khan will be desperate to restore some credibility and a win over Brook would certainly do that. If the fight happens at 147 lbs as muted, and Brook is able to resolve the issue of his mandatory Errol Spence Jr. the chance to gain a noteworthy strap will also act as significant motivation for Khan.
Brook who has for so long operated in Khans shadow, in a fashion not dissimilar to Froch and Calzaghe or Witter and Hatton previously, will relish the opportunity back up his outspoken claims that he is to strong and to crafty for Khan to handle.
Whilst the build up to this fight will centre around power vs speed – both men have more to their arsenals that that. Brook is teak tough, with exceptional footwork and great shot selection. Khans main asset is clearly his speed, but his experience and ring craft – which has been developed under Virgil Hunter – shouldn't be overlooked. Whilst he has also been knocked out in the past, in an even match up his durability and resilience is better than most give him credit for. His impressive and hard earned win over Marcos Maidana in late 2010 is testament to that.
Will the defeats both men suffered last time out have any effect on the outcome of this fight?
In Brooks case, no. Assuming there is no lasting effects from the eye injury sustained at the hands of Golovkin, he was stopped on his feet and boxed extremely well in parts during the opening exchanges.
On the contrary Khans loss to Canelo was the 4th of his career, 3 of which have been by knock out. There is little doubt that the nature of his most recent defeat will have effects on his confidence. The Brook fight will be a significant test of his mental toughness and resolve.
The PW view is this:
Brook wins late. (TKO 8-10)
I can see his exceptional footwork and timing being to much for Khan. Brook will nullify Khan's speed and exploit his poor defence with well time counters. Brooks jab is underrated and if he can be first in the exchanges Khan's upright style will play into his hands. Lastly, when both men hold their feet and decide to trade in the centre of the ring, Brooks power and all round toughness will tip the balance in his favour.
Tweet: @pugilisticwords
Read more: www.pugilisticwordsmith.wordpress.com