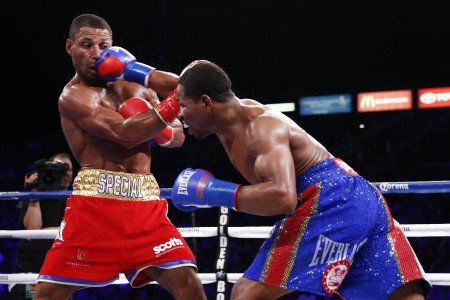 (Photo credit: Esther Lin/Showtime) Newly crowned IBF welterweight champion Shawn Porter (33-0, 22 KOs) won't be facing Amir Khan or any of the other big names in the 147 pound division in his first defense in November or December, because his promoter Eddie Hearn from Matchroom Sport wants to save the big fights until 2015 for some reason.
Last Saturday night, Brook defeated IBF welterweight champion Shawn Porter (24-1-1, 15 KOs) by a 12 round majority decision to win his IBF title in front of a large crowd at the StubHub Center in Carson, California.
Brook nullified Porter's offense with jabbing him while he was on the attack and then tying him up in clinches once he get in close. A lot of the fight went out of Porter when he suffered a cut over his right eye in the 2nd half of the fight. Brook was cut too over the eye, but it didn't bother him as much.
"He's just put himself up there with the very biggest names in the division," Hearn said to Skysports.com. "I think we'll go and defend the title back home in November or December. Then I suppose we better give the British public the fight that everybody wants, and that's the Amir Khan fight. I've mentioned the names – [Manny] Pacquiao, [Floyd] Mayweather and Porter. Those are the long-term goals."
Hearn believes that Khan-Brook fight can be as big as the Carl Froch vs. George Groves rematch last May at Wembley Stadium. That fight drew a reported 80,000 fans to see it.
Brook would make a Khan-Brook fight much bigger if he were to face a top caliber welterweight in his first defense of his title in November or December rather than facing lower level type of fighter like the ones that Brook has been largely facing for the past three years.
Brook has technically been facing welterweight contenders since 2011, but it's either been fighters from the bottom of the top 15 or guys with an inflated ranking.
Hearn won't be doing Brook any favors if he goes back to putting him in with guys like Hector Saldivia, Carson Jones, Matthew Hatton, Vyacheslav Senchenko and Rafael Jackiewicz. Hearn needs to have Brook fight WBA interim welterweight champion Keith Thurman, Devon Alexander or Robert Guerrero.
Hearn probably won't let Brook fight those guys because they're risky fights for him. Instead, look for Brook to be matched against either Frankie Gavin or Leonard Bundu. In other words, it'll be someone that the British boxing public is familiar with, but someone who isn't good enough to potentially beat Brook like Thurman or Guerrero.
"We'll look for that big fight next year – maybe with Khan or maybe with Pacquiao or Mayweather," Hearn said.