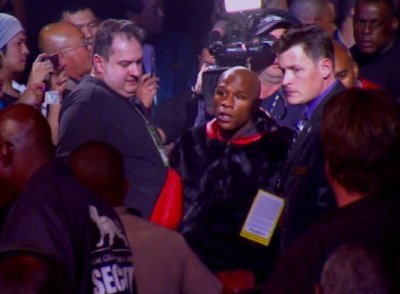 By Rob Smith: Golden Boy Promotions CEO Richard Schaefer says that WBC welterweight champion Floyd Mayweather Jr. is interested in facing WBC interim welterweight champion Robert Guerrero in 2013. Schaefer said to LA Times writer Lance Pugmire "Interest is there. It's a process, one that has begun. I have a site and date in mind."
If Mayweather takes the fight this will finally end Guerrero's constant calling Mayweather out. He's been wanting a fight with Mayweather for well over a year, and it's been a source of comedy to some boxing fans because Guerrero was talking about a Mayweather fight even before he'd fought at welterweight. Now that Guerrero has beaten two of the top welterweights in Selcuk Aydin and Andre Berto no one is laughing anymore. They have to take Guerrero seriously, because he's winning decisively and looking pretty sharp.
Guerrero gave Berto a real beating last Saturday night in a 12 round decision, swelling both of his eyes in the process. After the fight Guerrero declined an offer from Max Kellerman to fight a rematch against Berto, and instead said he wanted Mayweather next. That made sense because why should Guerrero want to go over old ground and face Berto again after he beat him in such a one-sided manner by knocking him down twice and almost closing both of his eyes.
If Mayweather doesn't take the fight with Guerrero his options a little more difficult. If he faces WBC junior middleweight champion Saul Alvarez, Mayweather will take a lot of punishment because Alvarez is a strong fighter and he's young.
The other big fight that boxing fans want to see Mayweather take is Manny Pacquiao. That too is a difficult fight for Mayweather, but perhaps not a doable one because of all the different aspects of negotiations that would have to be agreed upon to make the fight reality. Guerrero is a much easier fight, and an easier fight to put together for Mayweather. Guerrero doesn't punch with the power or the speed of Pacquiao, and he doesn't have the heavy hands that Alvarez has.