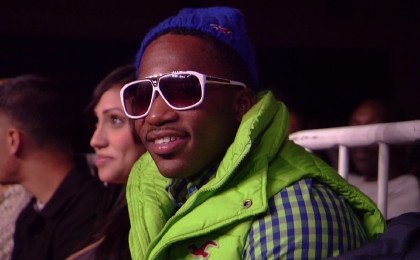 By Ed Patrick: WBC lightweight champion Adrien Broner (25-0, 21 KO's) may wind up fighting a unification bout against WBO lightweight champion Ricky Burns (35-2, 10 KO's) next, but that's not the guy that boxing fans want to see Broner fight. Burns is down in the pecking order in terms of who boxing fans want to see Broner fight, although they do have some interest in seeing that fight. In a poll conducted by RingTV, fans want Broner to fight Brandon Rios or Danny Garcia next followed by Burns.
Here's the results of the poll thus far:
Brandon Rios 28.4%
Danny Garcia 24.2%
Ricky Burns 13.3%
Lucas Mattysse 11.9%
Juan Manuel Marquez 11.1%
Amir Khan 9.3%
Miguel Vazquez 1.8%
No doubt the boxing fans who want to see Broner fight Burns are largely from the UK, because the casual fans in the U.S have little idea of who Burns is. That's not likely going to keep Broner's promoters at Golden Boy Promotions from making a Broner vs. Burns fight if possible, but it should. If boxing fans as a whole don't have a clue who Burns is then Golden Boy shouldn't waste one of Broner's valuable fights by putting him in with a little known fighter.
Rios or Garcia would be perfect for Broner if the fights could be made. Rios fights for Top Rank, and that probably rules him out as a viable option for Broner. Additionally, Top Rank promoter Bob Arum has ideas of putting Rios in with his number #1 money fighter Manny Pacquiao next April if Pacquiao beats Juan Manuel Marquez next month in their Las Vegas based fight on December 8th.
If Pacquiao wins that fight then look for Rios to be the next fight for him. That leaves Danny Garcia as a potential opponent for Broner. Golden Boy won't make that fight because they want both Garcia and Broner to stay unbeaten, and by matching them up then one of them will take their first loss.
I think the best possible opponent for Broner would be for him to fight Juan Manuel Marquez next. He's better known then Burns, Matthysse, Amir Khan or Vazquez in the U.S. It would be a great fight for Broner if Golden Boy could make that one. However, if Marquez loses to Pacquiao next month it might not be such a great idea to match Broner with Marquez under those circumstances. The ideal situation is for Broner to fight Marquez with him coming off of a win against Pacquiao, but too could be difficult because Arum will likely be looking to make an immediate 5th fight between Marquez and Pacquiao in order to try and have his #1 money fighter Pacquiao redeem himself as fast as possible.