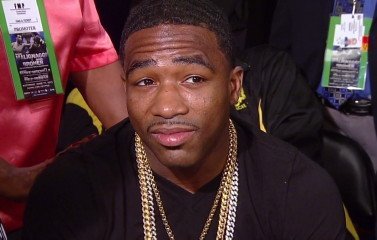 For the first time WBA welterweight champion Adrien Broner (27-0, 22 KO's) revealed that he could be facing the hard hitting Argentinian challenger Marcos Maidana (34-3, 31 KO's) next rather than vacating his title and ducking the fight like a lot of boxing fans think Broner will do.
Broner sent a twitter of encouragement today to WBA/WBC light welterweight champion Danny Garcia, telling him to beat his scheduled September 14th opponent Argentinian Lucas Matthysse (34-2, 32 KO's), and that Broner would then take care of the other Argentinian, meaning Maidana.
Here's what Broner said on his twitter today:
"@DannySwift a bro f**k that dude up then I'm go handle the other Argentine!!! Mfs don't know s**t bout boxing y'all praising these two Argentines but they both been beat plenty of times!!!! F**k out of here !!!!"
You almost get the sense that Broner is bothered somewhat about the huge praise that Matthysse is getting from boxing fans about this fight. Danny Garcia is getting a lot of praise as well, but most of the attention is being directed at Matthysse, because he's seen by a lot of knowledgeable boxing fans as the best fighter in the 140 lb. division after his recent string of quick knockout wins.
This will be interesting if Matthysse can beat Garcia, while Broner defeats Maidana. That would set up the perfect fight between Broner and Matthysse, and Golden Boy Promotions might even be able to make that a pay per view bout depending on how much attention Matthysse gets from the boxing public in his next fight against Garcia, as well as Broner with his fight against Maidana, if he actually takes that fight.
There are a lot of ifs here because Maidana might actually beat Broner. As bad as Broner looked against Paulie Malignaggi last month, it's quite possible that Broner could lose to a pressure fighter like Maidana if he gets in Broner's face and outworks him for 12 rounds or knocks him out. That would be a 50-50 fight at this point. You couldn't pick Broner as a favorite because of how terrible he looked against Malignaggi.