Share the post "Floyd: I'll fight Pacquiao if he signs with Mayweather Promotions"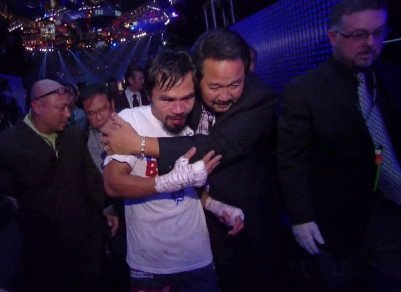 Floyd Mayweather Jr. is no longer setting a condition that Manny Pacquiao turn his career around before he'll fight him. That was what Mayweather Jr. had previously asked for Pacquiao to do before he'd agree to fight, given that Pacquiao has lost his last two fights.
Mayweather Jr. now wants Pacquiao to sign with Mayweather Promotions before he'll agree to fight him. Pacquiao currently is signed with Top Rank though 2014.
Mayweather Jr. said to Yahoo Sports "I'm just letting you know that he's not getting a fight with me. The only way he's getting a fight with me is if he signs with Mayweather Promotions. He's got to give me fights with Mayweather Promotions. If he don't give me no fights under Mayweather Promotions, then he's not getting the fight. That's how it's working now."
It looks like Mayweather Jr. is transitioning into more of a promoter mentality, as that's how some promoters work in regards to fights. In order to set up big fights, they sometimes get the needy fighter to agree to fight with their promotional company for a certain amount of fights before they'll agree to let that fighter face one of their guys.
I think the chances of Pacquiao fighting Mayweather in 2014 are nil, even if he wanted to fight him, because Pacquiao's contract with Top Rank runs to the end of that year. It's possible that the contract could last into 2015 due to Pacquiao missing a lot of time in 2013 after being knocked out. Pacquiao is only going to fight once in 2013.
If Pacquiao stays with Top Rank through 2014 and 2015, there probably won't be any point in talking Pacquiao vs. Mayweather for 2016, because both guys will be old by then and likely not at the tops of their games any longer.
Pacquiao is turning 35 in December, and he hasn't looked good since his victory over Shane Mosley in May of 2011. Pacquiao fought Juan Manuel Marquez in November of 2011 and won a controversial decision that still has people wondering what the judges were thinking when they scored the fight for Pacquiao.
Share the post "Floyd: I'll fight Pacquiao if he signs with Mayweather Promotions"