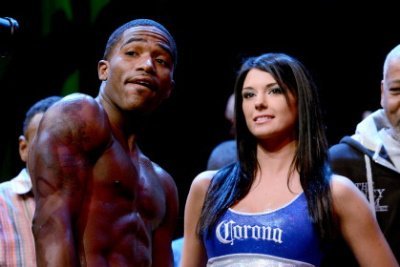 (Photo credit: Naoki Fakuda) By Rob Smith: Former WBO super middleweight champion Adrien Broner (24-0, 20 KO's) intends on showcasing a lot more of his boxing skills in this fight compared to his previous ones when he fights for a title against WBC lightweight champion Antonio DeMarco (28-2-1, 21 KO's) at the Boardwalk Hall, in Atlantic City, New Jersey. Broner, 23, realizes how much more of a threat the 26-year-old DeMarco is compared to the guys that Broner's been feasting on during his still young four-year pro career and he wants to make sure nothing goes wrong tonight.
Broner said to Yahoo Sports News "DeMarco fought good guys but he hasn't fought me. You are going to see a totally different Adrien Broner on Saturday night. I am going to be able to show more of my skills."
For Broner's sake he better hope he shows more skills because if he clowns around in this fight or if he stays in 1st gear all night long like he's looked against some of the weak opposition he's been in with he'll end up getting knocked out by DeMarco. This guys is powerful and he delivers his big left hand shots from the southpaw stance and that's going to be a different experience for Broner because he hasn't been fighting guys with power lately and he's been facing a lot of southpaws.
Broner has a world of pressure on him tonight because he has to beat DeMarco and beat him impressively so that he can convince boxing fans that he's a potential pay per view star. It's not enough that Broner just beats DeMarco. He has to beat him soundly to the point where boxing fans are in awe of Broner's talent. Thus far it's been like that for Broner in his previous wins, but he's also not had to fight anyone like DeMarco before. The closest that Broner has gotten to fighting someone like DeMarco was against Daniel Ponce De Leon in 2010. However, De Leon is a lot shorter than the 5'10' DeMarco and that made things a lot easier for Broner.