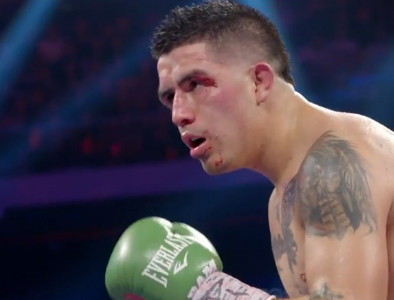 Brandon Rios claims he is ready for anything ahead of his clash with WBO welterweight champion Tim Bradley next month, insisting he is confident he can draw Bradley in and make him fight 'his fight.'
Rios goes into the clash having not boxed since way back in January when he destroyed an out-of-sorts Mike Alvarado in their rubber match, and knows that Bradley – under the guidance of new trainer Teddy Atlas – is looking to box a smart fight and not get caught in a war as he has been prone to unnecessarily in the past.
"I'm ready, I'm well prepared and we'll see what kind of exam he's gonna bring," Rios told fighthype.com. "Everyone knows how I fight, there's no secret to it. I always come to fight you know?
"My defence is my best offence, that's the way I fight all of the time, I give an exciting show, I come to fight and I put my heart on the line."
"I've gotta make him fight me and I think I can do that. If he wants to box then f*** it, I've been cutting the ring off very well and I'm doing excellent in sparring. I've been doing some boxing and moving around a lot and I think I'm doing great," he added.
Bradley has boxed just the once himself this year, back in June when he comprehensively outpointed Jessie Vargas to pick up the interim WBO strap before then being upgraded to full champion. A controversial ending to the bout saw Vargas rock Bradley in the final moments of the 12th before referee Pat Russell ended matters 10 seconds from time at the sound of the warning clapper.
It was following this fight that Bradley switched to Atlas from long-term trainer Joel Diaz in hope of employing some new defensive strategies in time for the fight with Rios.
Twitter @Undilutedpoison