Rob "Bravo" Brant, 18-0-0 (11KO) from St. Paul, MN had a tough test at the Celebrity Theater, Phoenix, AZ with upset minded Louis "Unknown" Rose 13-3-1 (5KO) out of Lynwood, Calif. Physically, they matched up pretty close with Rose enjoying a slight edge in reach. Neither man is a big puncher, but Brant proved to be the crisper more snappy puncher. Rose consistently missed the target with his, which was something the judges noted. Many of the rounds in this ten round fight were very close, and arguably could have been scored either way. Brant came into the fight as the favorite, with the better pro record and amateur experience, but Rose fought the better competition. He pulled off wins over four undefeated fighters and planned to make it a fifth on Showbox.
The first round set the pattern for the fight. Rose planned to pursue Brant, getting him to backup. He felt Brant wouldn't be as effective if pressed. Brant knew it was going to be a tough fight, and by the end of the first round, he was already landing right hands over Rose's low left. But, it seemed Brant was making mistake by allowing Rose to throw combinations with nothing in return. Brant managed to avoid or block most of the shots, but the judges had to be influenced by Rose's aggression. Fortunately for Brant, they weren't influenced quite enough for Rose to win the fight.
Rose was repeatedly tagged because he kept his guard low. His low left did afford him more of a up jab, which is sometimes hard for an opponent to pick up. Brant managed distance pretty well and kept his guard up so most of the time the jab bounced harmlessly of his gloves. However, because of the high guard or shell, Brant failed to consistently counter Rose. He was too busy blocking shots. He definitely needs to employ more head movement. Better fighters, especially big punchers, will thread the needle or simply blast through his shield.
Rose had the upper hand with body shots. Brant threw a handful. Brant's biggest success came with the lead right hands, or a basic one-two combination; He didn't employ a lot of left hooks, because Rose was usually out of range. Brant did land several straight lefts to end a three punch combination. Rose's head would noticeably snap back as a result, and that had to affect the judges.
This was Brant's first ten round fight, and he had plenty left in the last round, so now he knows he has the needed stamina. But, he also should have learned several other things. The most obvious thing is he needs to throw more punches. Next, he needs to go to the body more often. Most importantly, he also needs to employ more head movement, and break up his opponents' aggression with counters. On the offensive side, he needs to move in behind his right hand to land the left hook. Friday night he allowed his body to get too far out ahead of his feet. In the early rounds of the fight, Brant used feints to set up punches, but not so much in the middle and late rounds. Instead, he was stationery too much, which allowed Rose to tee off on him. All in all though, Brant fought a good fight against a tough opponent, and he walked away with the WBO Continental Americas middleweight title. Showbox will undoubtedly ask him back to headline another card.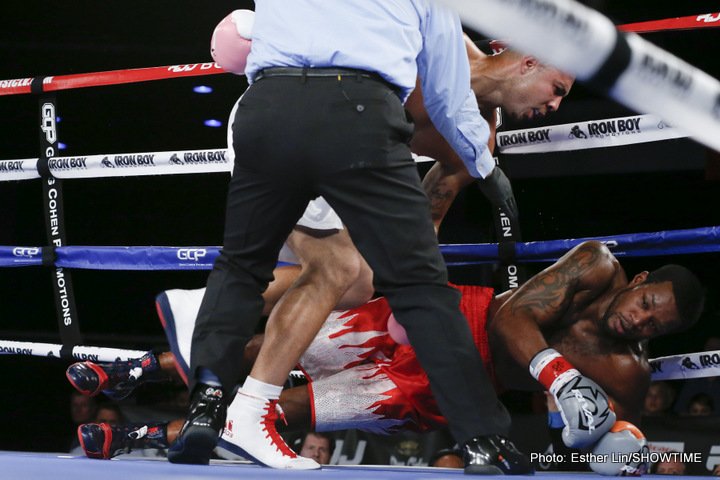 The under card featured big punchers and exciting knockouts. The televised portion opened with light heavyweights. Hard punching Samuel Clarkson 17-3-0 (11KO) ruined Lavarn Harvell's 15-2-0 (8KO) night with a power packed right hook. The southpaw's punch landed on the left jaw of of Lavarn, and down he went in the first round. He beat the count and wobbled back to his corner as the round ended. Clarkson wasn't about to let Lavarn recover and swarmed all over him to start the second round. Lavarn was beat down to the canvas once again, and when he got up this time, it was obvious he was in big trouble. He staggered with unsteady legs, and wondered off in no particular direction. He was saved from further destruction when his corner threw in the towel. It was a TKO win for Clarkson at .48 minutes into round two.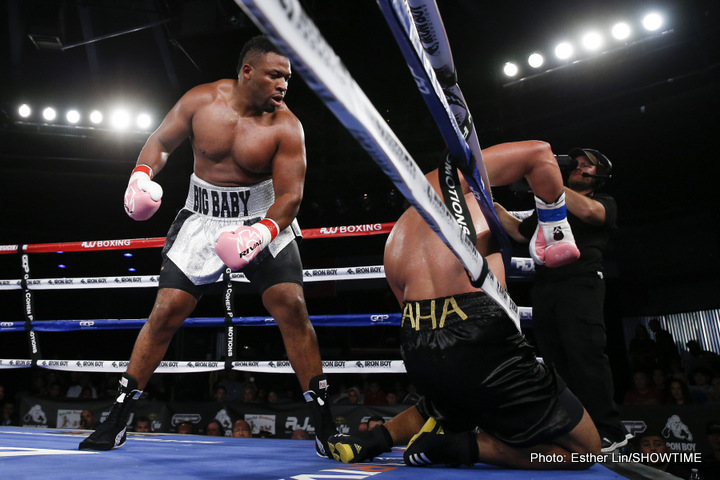 The second bout of the night featured heavyweights Jarrell "Big Baby" Miller 15-0-1 (13KO) and Akhror "Aha" Muralimov 16-2-0 (13KO). The much bigger Miller (6'4″) bullied the much smaller Akhror (5'11") into submission. In the third round, Miller trapped Akhor against the ropes. A flurry of punches was capped off with a particularly hard right hand that dropped Akhor for the count. The KO finish came at 1:03 of the third round.
All in all it was a good night for Showbox: The Next Generation. Fans were treated to two explosive knockout wins, and a main event full of competitive and intense action.