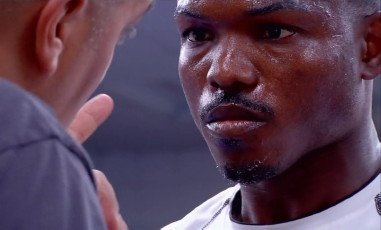 By Jeff Sorby: WBO welterweight champion Tim Bradley (29-0, 12 KO's) and super featherweight Yuriorkis Gamboa (22-0, 16 KO's) are still trying to negotiate the weight for their proposed March 16th fight. Gamboa, 31, is moving up in weight three divisions to take the fight with Bradley. According to the LA Times, Gamboa's team is shooting for a catch weight of 143 lbs, whereas Bradley is willing to fight Gamboa at a catchweight of 145.
You can see Gamboa's side for wanting to fight Bradley in the middle between 141 and 147. It's a lot harder on Gamboa because he's moving up in weight from the 130 lb. division to take the fight. Bradley would be asking Gamboa to fight 15 pounds above that weight. It may not sound like a lot but it's pretty significant. Bradley rehydrates up over 150 and that's going to give him a pretty big weight advantage over Gamboa, who will be lucky if he weighs much more than 140.
There's a good possibility that Gamboa will be fine even if he's out-weighed by Bradley because it's not as if Bradley has any real power now that he's fighting at 147. He's a not a puncher and the extra weight that he's put on has slowed down his hand speed to where he's not as fast as he was when he was fighting at 140. Bradley has been doing a lot of resistance exercises and this has helped build up his size, but it's not made him a bigger puncher. It's not like with Juan Manuel Marquez, who has put on muscle and it punching harder. The extra muscle Bradley has put on seems to have made him tight and less flexible than before.
Gamboa is going to be tough for Bradley because Gamboa looked both powerful and quick in his recent fight against Michael Farenas last December. Gamboa looked to be a little over 140 for that fight and he fought pretty well for having put on the extra weight. I think Gamboa will be more than a handful for Bradley.