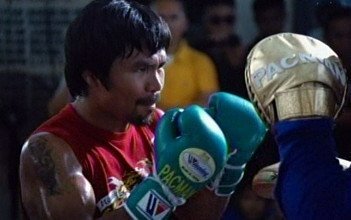 More than just a trending revival, thanks to recent exciting fights and big bouts on the horizon, boxing is seemingly back as one of the most watched and profitable sports on earth. Carl Froch vs Mikkel Kessler had the whole of Britain enraptured, while the announcement of Floyd Mayweather fighting Saul Alvarez in September has made every sports fan around sit up and take notice. All over, boxing is far away from the days where many stated it was 'dying'.
It is probably true that the rise of MMA gave boxing the kick up the backside it needed to ensure the best fights were getting made regularly and made accessible to as many as possible. But there are also powerful new promoters that have helped boxing rise back to prominence, with the likes of Golden Boy Promotions and Matchroom Boxing in particular wrestling control away from the old-school promoters that called all the shots and thus stifled the sport.
However, even more than all of the above, a golden generation of truly exciting fighters has led boxing back to the promise land of front page news and sold-out arenas. While no one can doubt the greatness of the likes of Floyd Mayweather, Andre Ward and Wladimir Klitschko, most would agree their fights aren't usually thrilling and most just tune in to see if they will finally lose.
Now though, we have a host of fighters that seemingly always thrill fans every time they step in the ring. So to honour those that have pushed boxing back to the forefront of sport here are the top 10 most exciting boxers on earth today.
10) Tyson Fury – Heavyweight, 25 years old, 21-0 (15 KOs)
At 6'9 and from the lineage of bare knuckle gypsy boxing champions, Tyson Fury was seemingly born to fight. The self proclaimed future undisputed heavyweight champion of is currently on a tear through his division that for many reasons has made everyone take notice.
Firstly, Fury is not shy about telling any other heavyweight around – the Klitschko's, David Haye, Detonay Wilder – what little he thinks of them and their ability to beat him, both on twitter and any time he is on camera. Secondly, Fury has the ability to look genuine championship material one minute (see his comfortable points win vs Kevin Johnson) and a novice (see the 2nd round vs Nevin Pajkic) the next.
Finally, Fury is convinced he is also a quality singer, as shown when he serenaded a hostile crowd after viciously knocking out Steve Cunningham in New York last April.
Within his next few fights Fury recently stated he is "99%" certain to fight David Haye next in what will be one of the biggest British grudge matches since Benn vs Eubank 1. The boxing world will all be watching Tyson Fury from now on.
9) Adonis Stevenson – Light-heavyweight, 35 years old, 21-1 (18 KOs)
In boxing you cannot really get anything more exciting than a fighter with one-punch knockout power that is vulnerable himself to a big punch.
Canada's Haitian born southpaw Adonis "Superman" Stevenson is in this mould. A man with truly exceptional knockout power – compared to Tommy Hearns by none other than Emmanuel Steward himself – Stevenson rebounded from a 2010 knockout loss to gate-keeper Darnell Boone to rack up eight knockout wins in a row, including revenge in a rematch against Boone.
Stevenson truly showed he is one of the most exciting boxers on earth just the other day, by obliterating WBC light-heavyweight champ Chad Dawson in 1 round. The fact it was his first fight at the weight making it even more remarkable. For a man once convicted as a pimp, Stevenson is selling himself very well.
8) Gennady Golovkin – Middleweight, 31 years old, 26-0 (23 KOs)
It is near enough certain that "Triple-G", as he is known, will be higher on this list this time next year. For now though, Golovkin makes this list as comfortably as he seems to be knocking out his opponents.
In a division that has been ruled by Sergio Martinez for the last three years, GGG has been clearing out all the C and a few B list contenders in brutal fashion, now racking up 13 knockouts in a row and building a cult following along the way.
What makes Golovkin most exciting is not just his savage power in each hand, it is the methodical, calm yet serious approach he has to boxing, going about it in a manner of a man clearing out his messy garage.
Golovkin's fights seem to have an air of inevitability about them; it being inevitable his opponent will get knocked out. While it is likely the Kazakhstani national will continue winning, what is certain is that all of his opponents are going to have to go through some serious punishment, making him a must-watch fighter.
7) Adrien Broner – Lightweight, 23 years old, 26-0 (22 KOs)
Flashy, cocky and arrogant to such an extent it that it is now comedic, the whole of sport will soon know about Adrien Broner.
"The Problem" has been dominating boxing headlines for a while now, for his antics both in and out of the ring. In the last two years America's Broner has won titles at super-featherweight and at lightweight, producing some electrifying performances in doing so.
Also, Broner has made a name for himself by asking his corner to brush his air in between rounds, throwing hundreds of dollars into a toilet on video and now making the world aware of a love triangle involving him, his next opponent Paulie Malignaggi and a young lady named Jessica Corazon.
Already there are many that will just watch Broner fight hoping to see him get the beating they claim he deserves. Others are mesmerized by a boxer who utilizes a style similar to that of Floyd Mayweather but with a finishing instinct akin to Mike Tyson.
As his stage gets bigger and more tune in to watch him we can guarantee that watching Adrien Broner is going to be fun if nothing else.
6) Lucas Matthysse – Light-welterweight, 30 years old, 34-2 (32 KOs)
The Argentinean is nicknamed "The Machine" and it could not be a more apt moniker, because fighting him must be like taking on the terminator.
For opponents Matthysse is a relentless monster, constantly coming forward and literally trying to kill you. The power in his hands is also scary and he is not scared of throwing them, even wildly at times. To top it off, he has so far looked impervious to punches.
But there is a method to his murderous madness and so far it has not done him wrong, even in the two fights he lost (against tricky American's Zab Judah and Devon Alexander) many thought he actually won and he put both fighters down in each fight.
Matthysse is viewed as the dark-horse in and around the light-welterweight division, a fighter that many promoters will be trying to shield their fighters from. Next for Matthysse is a mouth-watering battle against fellow power puncher Danny Garcia in what is the start of the big part of his career.
5) Marco Huck – Crusierweight, 28 years old, 36-2 (25 KOs)
"Captain Huck" is probably the most popular fighter outside of the Klitschko's to fight out of Germany, thanks to a style reminiscent of Arturo Gatti.
A come-forward, often crude but effective fighter known for his non-stop aggression, Huck has been in a string of barnstorming brawls that have gone all the way. His recent bouts against the likes of Ola Afolabi, Alexander Povetkin and Dennis Lebedev were epic back-and-fourth bouts that were fought to the very last second, usually only thanks to the iron chin the Serbian born fighter possesses.
Always in title contention thanks to a strong fan base and an even stronger will to win, Huck is the archetypal exciting boxer, simply looking to stand and trade toe-to-toe and see who gives in first. What he lacks in skill he makes up for in will and that is what makes him one of boxing's most exciting fighters.
4) Amir Khan – Light-welterweight, 26 years old, 28-3 (19 KOs)
Never has such a vulnerable fighter fought with the kind of reckless abandonment that Britain's Amir Khan does.
Having been one of the tales of the 2004 Olympics when he won a silver medal aged just 17, Khan has become a transcendent star. But thanks to his style, not everyone jumped off the hype-train when he first got derailed by Breidis Prescott.
In fact, Khan actually became more of a draw for fight fans once it was obvious he was very susceptible to a heavy shot. Fans have watched him get into wars and at certain points all watching will have braced themselves to see Khan hit the deck.
Yet it seems Khan feels no fear. Every fight he continues to attack in hurried flurries, looking to press the action, despite having been brutally knocked out twice now.
Even without his vulnerability Khan is good to watch, with his blinding hand speed, combinations and accuracy. But the truth is millions of fans watch Amir Khan fights because they know at any second the fight can end, and not always in his favour.
3) Juan Manuel Marquez – Welterweight, 39 years old, 55-6-1 (40KOs)
Having only one Mexican in any list of exciting boxers is unusual. Having one that is primarily a counter puncher is downright weird.
A patient counter puncher that likes to out-think his opponents, Marquez doesn't sound too exciting on paper but 40 knockouts and several wars with the likes of Marco Antonio Barrera, Michael Katsidis and of course Manny Pacquiao (against whom Marquez holds one of the best knockouts in history) tell a different story.
Marquez is that manic technician that somehow keeps his nerve in the eye of the storm. In fact, it is probably during the eye of the storm – those crucial, deadly milliseconds between when a punch is thrown until it lands – that Marquez is at his best. Marquez likes to fight opponents on the inside and hit with his opponents, literally throwing at the same time in deadly shootout.
Early on in fights Marquez can sometimes look ponderous but once he is warmed up and has a gauge of his opponent's skill set, Marquez can tear anyone apart. Whilst noted for his skills Marquez has one of the best chins in modern history and despite all his skills it is his willingness to get this tested that makes him one of the most exciting fighters on earth.
2) Carl Froch – Super-middleweight, 35 years old, 33-2 (22 KOs)
Many fighters are nowadays labelled warriors but only a few truly deserve the title. Real warriors are fearless, ready to fight anyone, anywhere, at any time. Carl Froch is a true warrior.
This is a man who regularly has gone to his opponent's backyard to fight them, such is his willingness to prove himself. Britain has arguably never produced a hungrier fighter and maybe not a more consistently exciting fighter.
And what makes Froch so exciting is once in the ring he doesn't give an inch. Froch gives the impression he enjoys opponents hitting him with their best shots, knowing that when it barely makes him flinch he will have won a mental battle. Blessed with the deadly combination of a remarkable chin alongside concussive power, Froch is literally fearless in his approach to boxing.
Many a boxing purist has watched Froch and derided him for his low hands and lack of head movement, even leading to them questioning his ranking among the top ten pound-for-pound boxers today. But after comprehensive and pulsating wins against Mikkel Kessler, Lucian Bute, Arthur Abraham, Jermain Taylor and Jean Pascal to name just a few, Froch is undoubtedly not only a thrilling fighter to watch but is also one of the best fighters around today.
1) Manny Pacquiao – Welterweight, 34 years old, 61-5 (38 KOs)
When the legend that is Manny Pacquiao comes to retire (which is probably not far away), the Filipino may very well be looked upon as the most exciting fighter ever.
This is an electrifying performer that has gone through eight different weight divisions destroying champions. Accurate, powerful, fast and often just damn vicious, Pacquiao has literally all of the offensive qualities one could ask for in a boxer.
The epic quadrilogy with Juan Manuel Marquez, the wars against Miguel Cotto and Antonio Margarito and the annihilations of Ricky Hatton, Oscar De La Hoya, Erik Morales and Marco Antonio Barrera; very few fighters have thrilled as much as Pacquiao has done on the biggest of stages.
Although he suffered a brutal knockout loss in his last fight, it has only made his fights from hereon more interesting. Once looking like he had an iron jaw, fighters will come at Pacquiao now knowing that he can be hurt. However, if he is anything like his old self – and before he was knocked out in his last fight let's remember he was looking as dangerous as ever – coming at "Pac-man" is like stepping into a hornet's nest.
In November Pacquiao takes on the ultra-tough and aggressive Brandon Rios in what is guaranteed to be another exciting war. Win or lose, Pacquaio will be held in the highest of regards by almost everyone in boxing, not just for what he did, but also for how he did it.
Although pay-per-view figures may point at other fighters, Pacquiao is arguably the most watchable boxer across the spectrum since Mike Tyson and definitely the most exciting fighter to watch today.
Honourable mentions to: Peter Quillin, Saul Alvarez, David Haye, Brandon Rios, Alfred Angulo, Mike Alvarado, Nonito Donaire, Vic Darchiniyan, Guillermo Jones, Juan Manuel Lopez
Author: Jazz Singh Gill, Twitter – @JazzTheJourno