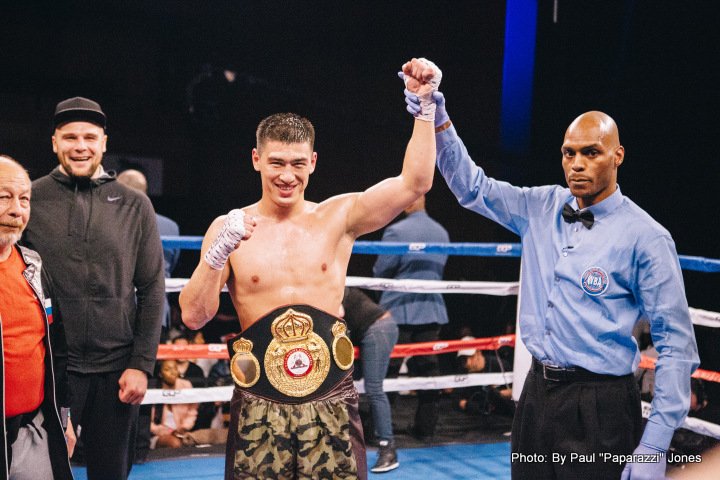 By Paul "Paparazzi" Jones and Justin Jones | Photo © Paul "Paparazzi" Jones
OXON HILL, MD – 26-year-old, WBA Interim Light Heavyweight Champion Dmitry Bivol (10-0, 8 KOs)put Americanfans,the boxing media, and his divisional counterparts on notice after shellacking Samuel "The Main Event" Clarkson (19-4, 12 KOs) en route to a4thround TKOin the main event of SHOWTIME'sSHOBOX: The New Generationcard at the MGM National Harbor in Oxon Hill, Maryland.
With the win, Bivol snapped Clarkson's nine-fight win streak and likely setup a showdown with WBA Regular Light Heavyweight Champion Nathan Cleverly (30-3, 16 KOs) in the process.
"Yes I hope so, I've been waiting for that fight," said Bivol through a Russian translator when asked about facing Cleverly. "And I hope that fight is going to be on SHOWTIME® in the United States."
The winner of Cleverly vs. Bivol could very well become the mandatory challenger for WBA World Champion, Andre Ward (31-0, 15 KOs)down the road.
Although Bivol's win over Clarkson was only his 10thpro fight, it was clear that the Kyrgyzstan native was the superior fighter.
In the opening round, Bivolhurt Clarkson with a right hand that landed flush on Clarkson's gut.  Bivol then followed up with a series of hooks to Clarkson's head that culminated in Bivol'sfirst of three knockdowns, occurring near the middle of the round.
Clarkson never fully recovered from Bivol's devastating body blow.  Nor was Clarksonable to get into a rhythm and mount a comeback.
Later in the first round, Clarkson was dropped again. And things didn't get much better for the Texan in rounds two and three.
Clarkson was decked again in the fourth when Bivol's combinations to the midsection and head put Clarkson down for the third and final time. Referee Havey Dock halted the bout shortly thereafter ,ending Clarkson's misery at the 1:40 mark of the round.
By-and-large, Bivol displayed the kind of attributes that one would expect from an emerging boxing talent:power, accuracy, efficiency, range, and stamina.
Bivol is far from perfect, however. And there are some technical shortcomings that he will need to correct (e.g., head movement, footwork) before taking the next step in his career.
Nevertheless, it will be interesting to see how far and fast Bivol can rise through the light heavyweight division with the likes of Andre Ward, Sergey Kovalev (30-1-1), and Adonis Stevenson (28-1, 23 KOs)atop the weight class.
Only time will tell. But, in the meantime, we'll keep Bivol's name on our short list of crowd-friendly fighters to watch.■
Contact "Paparazzi" Jones:
prjones1@hotmail.com | Twitte r@boxingepicenter
More from "Paparazzi"and Justin Jones:
In Pictures: Official Weigh-In Results – Lomachenko (129.6) vs. Sosa (130.4, 130.2)
The Debate Continues… Should Roy Jones, Jr. Fight On Despite Latest TKO Victory Over Bobby Gunn?
OPEN MIC: A Candid Conversation with Lamont "Havoc" Peterson — García, Mayweather, Pacquiao, More!