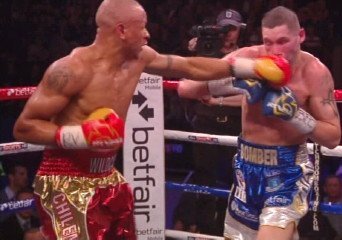 #1 WBO light heavyweight contender Tony Bellew (19-1-1, 12 KO's) will be trying to erase the controversy of his previous fight when he faces #3 WBC Isaac Chilemba (20-1-2, 9 KO's) in a rematch this Saturday night at the O2 Arena in London, UK.
The fight is buried on the Carl Froch vs. Mikkel Kessler card, and you have to wonder if this was an intentional move by Bellew's promoter Eddie Hearn in case Bellew gets boxed silly again by Chilemba and it ends up as a huge buzz kill for all the Brits at ringside and watching on television.
Bellew has a simple plan on trying to beat Chilemba this time around. He says he's going to go out there and just throw a ton of punches to try and overwhelm the defensive artist. I doubt it's going to work, but that's what Bellew plans on doing.
Bellew said to Sky Sports News "The real big difference on the night will be my output and this time I am not going to stop after seven rounds…I am not going to fall apart halfway through the fight…he knows I won deep down."
This is funny. Bellew still bellyaching about how he really won their previous fight and how Chilemba knows he Bellew won. That is so hilarious and yet so sad.
I still remember Chilemba getting interviewed after the fight and Bellew cutting in to say that even Chilemba's trainer knew that he won. It just made Bellew look like a fighter unable to come to terms with how poorly he had fought.
I hope for Bellew's sake he doesn't try the shotgun approach to beating Chilemba because that guy's a counter puncher, and if tries to overwhelm him with shots, Bellew may be picking himself up off the canvas two or three times before it's over. He lucked out last time in getting a draw, but if he tastes the canvas on Saturday, he won't get the win this time.