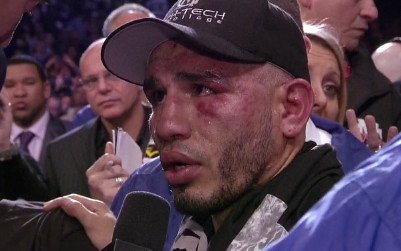 Golden Boy Promotions is setting aside the Barclays Center in Brooklyn, New York on September 28th for a possible Miguel Cotto fight, according to Steve Kim. This is potentially bad news for WBA/WBC junior middleweight champion Saul "Canelo" Alvarez because Cotto is the backup plan for him if Golden Boy can't negotiate a fight between him and Floyd Mayweather Jr. for September 14th at the MGM Grand in Las Vegas, Nevada.
If Golden Boy strikes out with Mayweather, then they won't eve have Cotto for Canelo. With Mayweather and Cotto out for Canelo, he'd then likely be matched up with the Golden Boy promoted Alfredo Angulo or Erislandy Lara.
Cotto hasn't fought since last December in his loss to Austin Trout. There's talk that Golden Boy will look to match Cotto with IBF junior middleweight champion Ishe Smith so that when Cotto does face Canelo in 2014, he'll have a strap in his possession and the fight will be much bigger than it would be now with Cotto having lost his last two fights.
Canelo's next fight in September is supposed to be a PPV fight. How do you sell a Canelo vs. Cotto to viewers with Cotto having lost his last two fights? Golden Boy would have to hope that casual boxing fans either don't have a clue about how bad Cotto looked in his last fight or they just don't care. I think enough fans will care not to way to dump $60 to see Canelo beating a slumping Cotto.
On a side note: I don't know about you, but I don't want to see Canelo beating up on the incredibly slow Angulo, especially if Angulo gets beaten by Lara next month in their fight on June 8th at the Home Depot Center in Carson, California.
Golden Boy probably put Canelo in with Lara because he's a nightmare opponent for the flat-footed Canelo and it would be a very difficult fight for the young 22-year-old red-haired Mexican fighter. Lara goes against the grain for the types of opponents Golden Boy has been matching Canelo against.
First off, Lara is an actual junior middleweight and not a welterweight, he's fast and he's mobile. Golden Boy has been putting Canelo with slow guys.