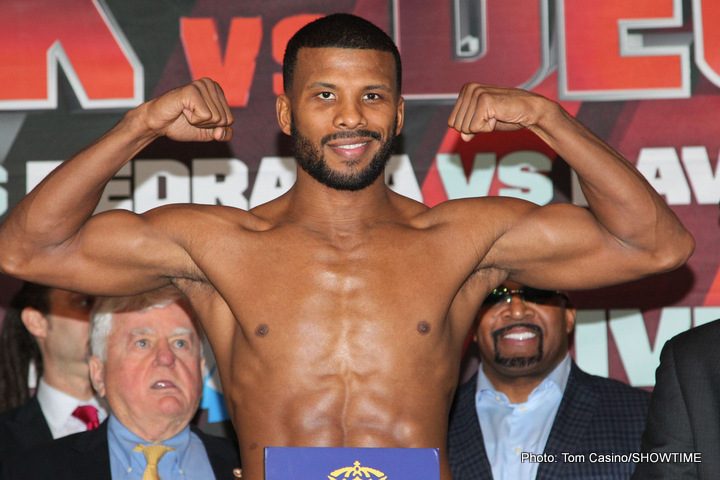 Badou Jack has barely been allowed enough time to get his breath back after Saturday's rough and tough draw with James DeGale, yet the WBC super-middleweight champ has been ordered to begin negotiations with mandatory challenger Callum Smith.
Jack, as per the WBC order, has until February 17 to come to an agreement with the unbeaten Smith or the fight will go to purse bids. A good and interesting fight on paper, Jack-Smith might not even happen. Jack stated after the draw with IBF 168-pound champ DeGale that he struggles to make the weight and would prefer to move up to light-heavyweight – either to face DeGale again or to challenge reigning WBC 175-pound champ Adonis Stevenson.
If this happens and Jack vacates his WBC super-middleweight belt, Smith, one of ace trainer Joe Gallagher's most talented fighters, will likely face Andre Dirrell for the vacant title. So, it seems it's all up to Jack, and his promoter Floyd Mayweather Junior of course.
If Jack is tight at the weight as as super-middleweight then of course he should move up. In actuality, a Jack-Stevenson fight would be a more lucrative fight for "The Ripper," as well as being a much bigger draw in the U.S. Smith, a very tall fighter for super-middleweight at 6'3" (how soon before the Liverpool fighter begins to struggle to make 168?), deserves his chance of course, and many good judges have the 22-0(17) contender down as a future star.
Smith would of course prefer to fight defending champion Jack instead of facing someone, Dirrell or anyone else, for the vacant belt, but the 26-year-old will take his shot against whoever. Smith may well add to the constantly growing number of world champions hailing from the UK. Also, with talent such as Smith, DeGale, George Groves and Chris Eubank Junior all operating at super-middleweight, the weight class is currently one of the hottest in British boxing.
As for DeGale, who came through the hardest fight of his life against Jack, it will be very interesting to see his next move. Floyd Mayweather says DeGale has star quality and that he can turn him into a star if he agrees to work with him.