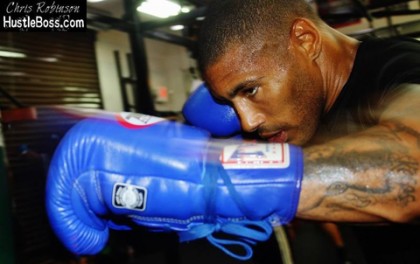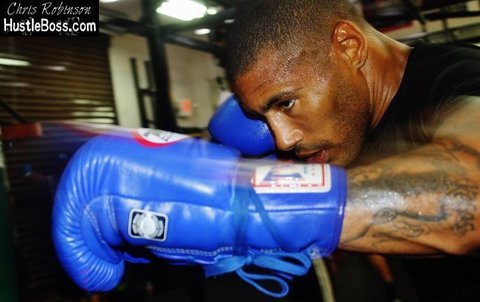 I've officially been a member of Mayweather Promotions for just over two weeks now – and it feels great!
My fight with Pablo Cesar Cano has been signed and sealed for September 14th at the MGM Grand in Las Vegas.
I'm the PPV opener for Floyd 'Money' Mayweather vs. Saul 'Canelo' Alvarez showdown. Which is a huge honour and a huge responsibility, handed to me by Leonard Ellerbe and Floyd himself.
My fight will be followed by my team mate, and world champion, Ishe Smith, as he defends his world title against Carlos Molina. My former opponent, who is currently world champion, Danny Garcia will face the dangerous Lucas Matthysse in the co-main event.
Then the fight everybody has been waiting for – "Mayweather-Canelo" will happen. This is the best PPV card that I can remember, by a long way – I might be just that little bit biased, but it's a brilliant card. Floyd already holds the record for most PPV 'buys' for his fight with Oscar De La Hoya, and this looks like beating it.
Over the last two weeks I've been very busy and challenged, sparring world champions Floyd Mayweather and Ishe Smith, Al Haymon fighter, Dequan Arnett and world title challenger, Arash Usmanee. It is really top level stuff.
I do road work with two world champions in Floyd and Ishe. They both motivate and inspire me. They are never short of words of advice, which is always appreciated.
On Saturday at 6am, the Money team fighters hit Mount Charleston. It is always a hard suffocating run, but one that brings much mental satisfaction once completed.
The Nevada Boxing Hall Of Fame evening was hosted by the Monte Carlo hotel and casino, it was a fantastic event. Boxing legends Mike Tyson, Sugar Ray Leonard, Larry Holmes and Earnie Shavers were in-attendance. Legendary promoters Don King and Bob Arum were also there. Floyd won an award for 'Fighter of the Year' and Ishe Smith was presented with an award for being the first Las Vegas born fighter to win a world title belt.
One half of my coaching team from New York City, Jihad Abdul Aziz arrived in Las Vegas to assist Nate Jones in getting me primed and ready for September 14th. He's been here a week and we've been putting in hard and quality work.
Those at the top of the mountain didn't just fall there. Putting in hard work and believing in yourself, especially when many people doubt you, will see you achieve your dreams or at least create opportunities.
It's been a long hard road to the top of this particular mountain, but to have the number one boxer in the world recognize my talent, and present me with such a great opportunity, has made the hard work and dedication all worthwhile.
I must add without René Carayol, this wouldn't be possible. He also saw my potential, believed in my talent and backed me to help make my dreams reality.
This week saw Ishe Smith, Danny Garcia, Lucas Matthysse, Carlos Molina, Pablo Cano and I conduct a conference call with the media. Over 30 journalists took part, and it was really great to hear all the fighters sounding confident, as we prepare for the biggest fights of our lives.
Ishe Smith and I did a TV Interview at Fox 5 studios on Friday, it was good fun. We spoke about our careers and promoted the 'back to school' drive which happened on Saturday. It was a privilege to be part of a genuine good cause giving to school kids and their parents. As most parents around the world know, it is not cheap to buy your kids the necessary school clothes, laptops, books and pens. I've seen just how hard it is for most parents first hand, so helping out and putting a smile on the kids and parents face was so worthwhile.
I finished off the week with a much needed 90 minute sports massage.
Just 4 weeks until 'The One' is here in Las Vegas. I'm working as hard as is possibly can, every day. This is the chance of a lifetime.
Prepare for fireworks!
Ashley Theophane