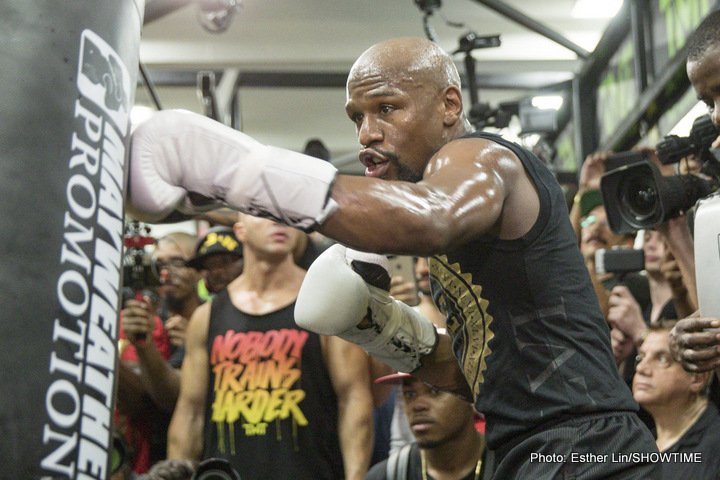 Much has been made of the Nevada State Athletic Commission allowing Floyd Mayweather and Conor McGregor to box whilst wearing smaller, eight-ounce gloves. A number of fight fans, along with some experts, are now giving the MMA star a better shot at pulling off what would absolutely go down in history as the biggest pro debut victory ever scored.
McGregor, 0-0-0 inside a boxing ring, to Mayweather's majestic 49-0 numbers, is not quite the long-shot he once was in this fight – not in the opinion of his fans and not at the bookmakers. As per a piece on The Las Vegas Review-Journal, the odds at William Hill in Las Vegas changed quite significantly when news broke about the eight-ounce gloves being brought in to replace the standard 10-ounce.
Mayweather is still a big favourite to win but he is now listed at minus-550, whereas he was minus-600 until the new gloves were introduced. McGregor, who was listed at plus-450, is now listed at plus-425.
McGregor is predicting a quick night, one that will see him KO Mayweather inside just two rounds, and it is due to the size of the gloves he will now be wearing that McGregor has shortened his KO prediction from his original, four-round KO win vow. But the Vegas bookies are hoping the second round KO does not come off, as it will cost them BIG if it does.
"We are hoping that McGregor's two-round knockout prediction with the smaller gloves does not ring true," said Nick Bogdanovich of William Hill in speaking with The Las Vegas Review-Journal. "As of today, it would be our worst result ever."
It would also be one incredibly bad night for Floyd Mayweather. Can McGregor really shock the world and succeed where so many other great fighters have failed, and defeat Mayweather – by KO at that?
Plenty of fans believe so, hence the big, big betting action this fast-approaching "Super Fight" has and is generating. With those eight-ounces protecting his fists, McGregor is sure he will not only win, he is sure he will not only win by KO, he is also sure he will then take over boxing and be a "God."
And we thought Mayweather was a boastful fighter.