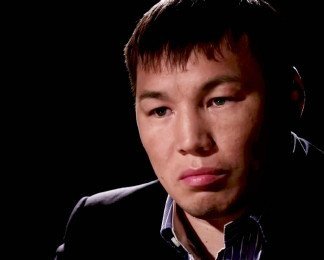 Top Rank promoter Bob Arum has said that WBO light welterweight champion Ruslan Provodnikov (23-2, 16 KO's) is one of the names that is a possibility to fight Manny Pacquiao on April 12th, along with Juan Manuel Marquez and Tim Bradley. But it's unknown how serious Arum is about potentially having a puncher like Provodnikov face his money fighter Pacquiao.But in the meantime, Provodnikov has accepted a challenge from one of Arum's fighters Brandon Rios (31-2-1, 23 KO's to fight him, presumably in a bout that could happen next on the undercard of Pacquiao's April 12th card in Las Vegas, Nevada.
Provodnikov said on his twitter "Brandon Rios, I agree to make fight. I'm ready."
Rios said "Ruslan Provodnikov, yes sir. Me too, so let make it happen."
This may not mean anything if Arum chooses to use Provodnikov for Pacquiao's next fight. He'll simply go ahead and match Provodnikov against Pacquiao, and Provodnikov will gladly take the big payday against Pacquiao compared to the much smaller one that he'd be getting against Rios. However, the chances of Arum matching a dangerous puncher like Provodnikov against Pacquiao are probably pretty slim.
Provodnikov can punch, and he knows how to fight Pacquiao because he's worked as his sparring partner for some time. Provodnikov is trained by the same trainer as Pacquiao in Freddie Roach, and he's mentioned more than once how Provodnikov gives Pacquiao a lot of problems in sparring. Roach doesn't want to see Pacquiao and Provodnikov fight, and one of the reasons for this is because of the danger he presents for Pacquiao. This isn't the slow as molasses Brandon Rios we're talking about.
Provodnikov has more speed, more finesse and more punching power than Rios. He could nail Pacquiao with a big shot and put him in the same horizontal position that Marquez had Pacquiao last December.
A fight between Provodnikov and Rios is slightly interesting if it's an undercard fight we're talking about, but it's really not that appealing. Rios has lost his last two fights to Mike Alvarado and Pacquiao, and he arguably was badly beaten by Richard Abril last year in a fight that saw Rios get the decision. That's 3 losses in Rios' last 4 fights.
I think Provodnikov would be better off facing someone who's career isn't sinking into the mire right now rather than facing Rios. What does Provodnikov get from beating a guy that was already beaten by Abril, Alvarado and Pacquiao? There's no real gain from beating him other than doing Arum a favor by fighting one of his Top rank fighters down in his luck.