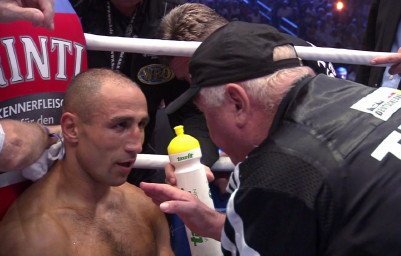 By James Slater – They are both mega-stars in Germany, and reigning world champions Arthur Abraham and Felix Sturm have seemingly been on something of a collision course for years. Now that "King" Arthur is back where he belongs and has done his job against the classy Robert Stieglitz, all that remains for the super-fight to happen is Sturm taking care of his business this coming Saturday.
Sturm, the long-reigning WBA middleweight king, faces IBF champ Daniel Geale, 27-1(15) and if the 33-year-old can come though okay, it would be a natural for him to move up to 168 (Sturm has struggled to make 160 for some time) and get it on with Abraham.
32-year-old Abraham, 35-3(27) now a two-weight ruler, against Sturm, 37-2-2(16), would attract an absolutely monstrous audience in Germany. Simply put, both guys are total legends in their homeland (Abraham being born in Armenia but living in Berlin for a number of years). In separate fights the two stars bring in huge crowds, together the box-office records would likely be smashed.
Both men have enjoyed long, likely Hall of Fame-worthy careers, and the two veterans are closing in on their last few years. What we need to see now is a showdown between the two, to finally find out who is the best. Abraham has those heavy hands and he is rock-solid and tough. Sturm has those fine boxing skills and that superb jab. Who would win? We need to find out. Sturm has a tough fight on his hands on Saturday, as Abraham had on his powerful hands last night. Abraham scraped through against a younger, fresher, faster opponent. Sturm should be able to do the same.
Look for Sturm, a man who has not lost since way back in 2006, to pound out a wide points decision over his Australian challenger (himself not beaten since 2009, the SD loss to Anthony Mundine being the sole loss on Geale's record). Then, let the most natural of match-ups get made for early next spring.
Abraham-Sturm would have everything: a clash of styles, a grudge-match element, a 50-50 divide in fans and experts and a full football stadium to hold it in. German bragging rights would be well and truly up for grabs with this one.