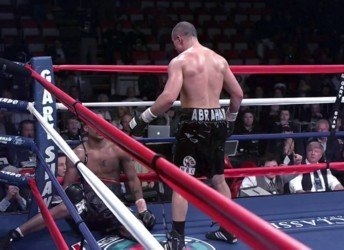 By Michael Collins: Andre Dirrell (20-1, 14 KO's) wants to get a shot at newly crowned WBO super middleweight champion Arthur Abraham's World Boxing Organization crown to take the title off of him and pay him back for being fouled in their fight in April 2010 in the Super Six tournament. Although Dirrell completely dominated Abraham and won the fight by an 11th round disqualification, Dirrell still wants to get Abraham back in the ring so that he can beat him until the conclusion of the fight.
Dirrell said this on his twitter yesterday after learning about Abraham beating WBO super middleweight champion Robert Stieglitz by a 12 round unanimous decision in Berlin, Germany: "I want that WBO [belt], Abraham!!! Scene 2, Ace 2. I'm gonna act out another ass whopping on you…again! Let me get the mandatory for that WBO after my next fight!!! I bet Abraham won't fight me!!! Haha. I can't wait!!!"
I also bet Abraham doesn't fight Dirrell. There's really no reason for Abraham to take the fight because in terms of important fights that can make him the most money, a fight against Dirrell would have to be low ranking right about now. Abraham can make better money against fighters like Lucian Bute, Mikkel Kessler, Felix Sturm or Carl Froch. Abraham isn't going to use up an important fight and risk getting beaten again if he's not going to get the biggest payday.
His promoters are going to stay away from Dirrell like the plague because he kept Abraham pretty well bottled up last time they fought, and the chances are high that the outcome would be the same if not worse if they fought again. Abraham is older now at 32, and Dirrell is hitting his prime at 28. The only way Dirrell gets a fight against Abraham is if Bute, Kessler, Sturm, Froch and George Groves aren't available. Even then, Abraham's promoters will likely put him in an easy title milking fight against one of the bottom ranked WBO contenders rather than taking a risky fight against Dirrell.
Dirrell needs to get busy and start fighting more often if he wants to make a name for himself to where guys like Abraham will want to fight him. As things are right now, Dirrell has missed too much time since 2010 and he's dropped off the map.