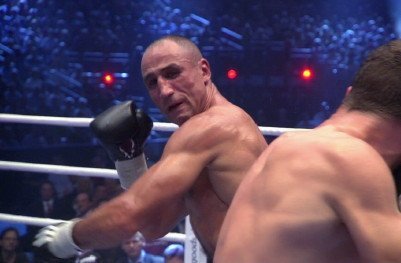 Share the post "Arthur Abraham Back Out on Nov 21 / 'Plenty More Knockouts to Come'"
Germany's WBO super middleweight champion Arthur Abraham will return to the ring on November 21st in Hannover, Germany against a TBA opponent, insisting that at 35 years old, there is still plenty more to come in terms of action.
Abraham last beat countryman and former champion Robert Stieglitz in June, in what was the pair's fourth meeting, knocking out his rival in 6 rounds to take the series 3-1, putting a full stop on their 3 1/2 year fight saga. After fracturing his jaw in that fight, Abraham claims he's now fit and keen to move on.
"Everything's OK. My jaw has healed and I'm looking forward to getting back into the ring," he said.
The fight in November will be a voluntary defence before the German is due to meet his mandatory obligations early next year, in the shape of highly-touted Mexican, Gilberto Ramirez – a dangerous defence, even if Ramirez looked sub-par last time out against 2nd tier American, Derek Edwards.
Yet, whomever ends up in the opposite corner at the end of November, Abraham is promising fireworks;
"After beating Stieglitz for the third time, I felt like I'd been liberated," he said. "I've always had confidence in my punching power. My opponents should beware, and the fans should rejoice, as there are plenty more knockout victories to come."
It was a sentiment shared by Abraham's promoter, Kalle Sauerland, who added;
"In recent fights, Arthur has looked better than ever. Many people have tried to write him off over the years, but he has consistently delivered, proving himself to be one of the top elite-level fighters in the world. The knockout against Stieglitz showed he has not lost any of his power, and fans can look forward to seeing the 'Abrahammer' again on Nov. 21."
Twitter @Undilutedpoison
Share the post "Arthur Abraham Back Out on Nov 21 / 'Plenty More Knockouts to Come'"