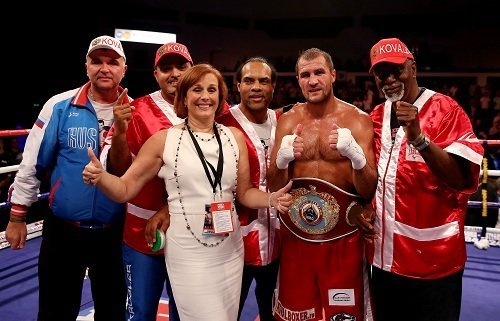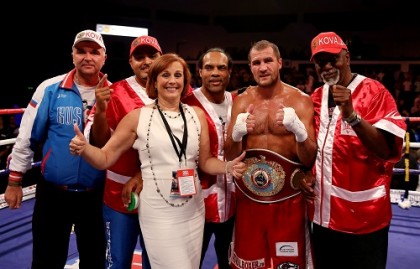 After last Friday's maligned Adonis Stevenson v Tommy Karency PBC on Spike fight from Toronto pulled in a series average of 581k viewers, Main Events boss Kathy Duva – promoter of WBA/WBO and IBF light heavyweight champion Sergey Kovalev, has again asked Stevenson to consider coming to Kovalev's broadcaster HBO for their heavily demanded unification fight.
Kovalev is tied exclusively to the broadcasting giant, and that is proving – technically at least – the sticking point in putting together the fight, which Duva and Kovalev have stated they are willing to travel to Canada for, as well as give Adonis 50/50 in terms of the purse split.
Kovalev's last fight on HBO – a mandatory defence against over-matched Frenchman Nadjib Mohammedi in July, pulled in an average of 1.014m viewers, which for an opponent of similar calibre to Karpency, who was a voluntary for Adonis – is none too shabby…… and Kathy Duva clearly recognises this.
Last night the Main Events Twitter account wrote in response to the news of the PBC viewing figures;
"Tick tock, @AdonisSuperman…50/50 on HBO PPV sounding very generous…."
Stevenson, promoted by Canadian stalwart Yvon Michel and 'advised' by the elusive Al Haymon, took to calling out Kovalev following the Karpency win, with the Russian also then taking to twitter to ridicule "Superman's" victory over what he called 'an easy opponent'. The tweet was peppered with 'chicken' emoji's.
A prior scheduled purse bid earlier this year failed to take place when Main Events pulled out, given the financial backing of Haymon who would have inevitably won the bid, forcing Kovalev to break contract with HBO and fight elsewhere, which he was obviously unable to do.
The merits and drawbacks of exclusive deals and the current Haymon climate are perhaps another matter, yet with Kovalev owning 3/4 of the belts, offering a 50/50 split AND to travel to Stevenson's backyard, many fans are clear on who they think is actually doing the running, especially when recent opposition is taken into account.
Adonis has previously claimed he will fight Kovalev, but wants to want to go where the most money is…
The saga rumbles on. Yet if this fight does not get made anytime soon, or at all – Adonis is 38 and not getting any younger – it will indeed be a crying shame for the fans.
Twitter @Undilutedpoison