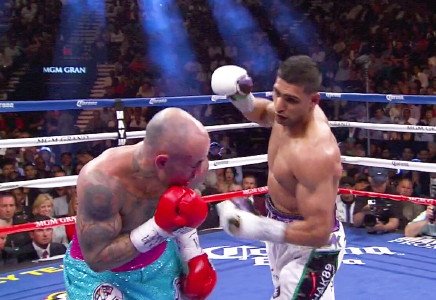 David Haye feels that Amir Khan's victories over Luis Collazo, Julio Diaz and Carlos Molina are the right stuff to get him a fight against Floyd Mayweather Jr. in late 2014 or in 2015. Haye believes that the way that Khan beat those three fighters was more than enough to show that he deserves to be in the same ring with Mayweather. Haye also has Khan rated as the number 2 welterweight in the division behind only Mayweather, and he sees Khan as being capable of defeating Manny Pacquiao right now.
"I think Khan deserves a fight against Mayweather. Maidana gave Mayweather a hell of a fight," Haye said. "Khan smashed him [Maidana] before, put him down and dominated him. If anybody can beat Mayweather, its Amir Khan…He put him [Collazo] down multiple times, and he dominated him. That was a performance for me to say he is the best fighter on the planet behind Mayweather."
Beating Collazo is a good start for Khan, but it's more of a lateral move from Khans last fight against the 34-year-old Julio Diaz. Golden Boy Promotions matched Collazo against Victor Ortiz last January, and Collazo was able to stop him in the 2nd round. But other than that one fight, Collazo hadn't done anything with his career in terms of important wins since he captured the WBA welterweight title in 2005. That's 9 years ago. Collazo lost to Shane Mosley, Ricky Hatton and Andre Berto, and Freddy Hernandez. But his wins have come against no named fighters until he beat the shell of Ortiz last January. Al Haymon and Golden Boy really need to test Khan against some better opposition than Collazo in order to show that he deserves a fight against Mayweather.
Khan said this week that he has several fighters that Golden Boy is looking at for his next fight later this year. Khan mentioned specifically Devon Alexander, Robert Guerrero, and Shawn Porter. Those are definitely a lot better options than Khan's last three fights against Collazo, Diaz and Molina. However, Alexander is coming off of a loss to Porter, so he wouldn't be an idea opponent if it's a fight that is supposed to earn Khan a fight against Mayweather.
Guerrero hasn't fought since his loss to Mayweather last year in May, and that's not a good thing either. Porter would be perfect for Khan if he were serious about wanting to fight him. But the chances of that fight happening are likely slim and none.
Khan's manager Al Haymon and Golden Boy likely won't put him in any fights where he has a good chance of losing, because the big money fight against Mayweather would be at stake. That's why it'll likely be either Guerrero or Alexander for Khan's next fight, and most likely Alexander. He doesn't have a lot of power and he looked bad in getting beaten up by Porter last December.
"I think Amir Khan would beat Pacquiao," said Haye.
The Khan that beat Collazo last Saturday night while holding, shoving and pulling down on his head for 12 rounds likely wouldn't last more than 2-3 rounds against Pacquiao. Collazo hit Khan with few punches in the fight due to his nonstop movement and holding, but the one shot that Collazo did hit Khan cleanly with in the 8th had Khan looking stunned briefly. Pacquiao would be hitting Khan with better shots than that 20-30 times per round even if Khan ran and held all night. It's hard to see Khan being able to stand up to more than a handful of big shots from Pacquiao before getting dropped, and then quickly finished off.