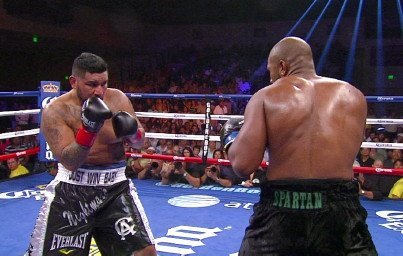 In a disappointing Showtime card filled with terrible mismatches, heavyweight Chris Arreola (36-3, 31 KO's) totally obliterated Seth Mitchell (26-2-1, 19 KO's) in the 1st round tonight at the Fantasy Springs Casino, in Indio, California, USA.
Arreola dropped the weak-chinned Mitchell twice in the 1st round. The fight, if you want to call it that, was then halted after Arreola hit Mitchell with a series of right hands that sent him running towards the ropes for safety behind the referee. Looked almost comical how Mitchell ended up behind the referee.
The first knockdown game from a right hand to the head that put Mitchell on the canvas. Mitchell got up, but his legs were totally gone and it was clear he wasn't going to make it out of the round unless he held. Unfortunately for Mitchell, he didn't choose to hold onto Arreola, and moments latter Mitchell was knocked down again after getting hit with several hard right hands to the head.
This time when Mitchell got up he hardly in any position to fight, but the referee allowed to continue. Arreola then landed three more right hand punches to the head that caused Mitchell to dash to the ropes where the fight was then stopped.
The thing about this fight is that Showtime wasted the time of the U.S fans by televising this mismatch. They should have known from Mitchell's 2nd round knockout loss to Johnathon Banks last November that this would be a silly mismatch. It didn't matter that Mitchell avenged the defeat, because he would have been knocked out a second time by Banks early in the fight had Banks not injured both of his hands and stopped throwing punches.
Arreola needs to be matched up against guys that have a chance of winning, and Mitchell never stood a chance to win this fight and everyone knew that going into this fight. The undercard was just about as bad this fight. There was no suspense at with any of this mismatches, and it's too bad Showtime wasted the time to televise these fights, because should have said no to the entire card.
Arreola is no better than he was in his last fight in getting beaten up by Bermane Stiverne. The only difference is Arreola was put in with a soft opponent, and it made Arreola look better than he actually is.
Deontay Wilder (29-0, 29 KO's) has been mentioned as a possible next opponent for Arreola. If so, then that's a fight I'd like to see. Wilder hits a lot harder than Mitchell, and he might cause problems for Arreola if he hits him as hard as Stiverne did. Stiverne was able to take the fight completely out of Arreola after knocking him down and breaking his nose last April.
Undercard results:
Efrain Esquivias TKO 9 Rafael Marquez
Ronnie Rios UD 8 Angel Beranza
Rico Ramos TKO 10 Carlos Velasquez
Ricky Lopez UD 4 Pablo Batres
Justin DeLoach TKO 3 Carl Hill
Joet Gonzalez UD 4 David Reyes
Maurice Lee UD 4 Juan Carlos Sanchez