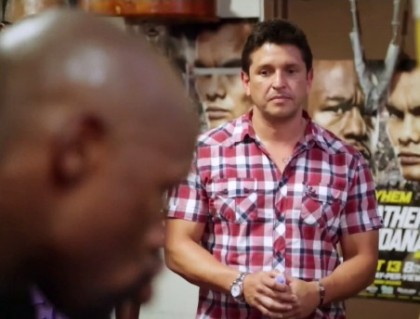 Strength and conditioning coach Alex Ariza has reportedly signed a 2-year contract with WBA/WBC welterweight champion Floyd Mayweather Jr (47-0, 26 KOs) that should in theory take Mayweather all the way to retirement. Ariza had helped Mayweather stretches during one of his workouts in getting ready for his rematch against Marcos Maidana.
Ariza continued to be around the Mayweather gym, making many boxing fans feel that it was just a matter of time before Mayweather eventually signed him up as his strength and conditioning coach.
"I signed an official contract for two years to serve as Floyd's strength and conditioning coach," Ariza said via the Manilastandardtoday.com.
Mayweather has 2 fights left on his 6-contract with Showtime/CBS, and it's unclear if Mayweather choose to fight beyond the end of the contract. He's run out of opponents to fight at this point, and about the only way he can continue to get big fights is if he decides to fight Manny Pacquiao. A fight between them would be huge and a rematch would be a big deal as well.
Ariza quoted Mayweather as saying "I think I need you now."
Mayweather didn't show any signs of fatigue in his recent win over Maidana, but of course we don't know how Mayweather felt in between rounds and after the fight. He may have been more tired than he'd been in the past.
One area where Ariza could be especially beneficial to Mayweather is if he could help increase his punching power by focusing on strength training like he'd done with Pacquiao when he was at his best between 2008 and 2010.
With Ariza's help, Pacquiao was knocking out most of his opponents and he looked a lot more powerful back then than he does now. Pacquiao went away from the strength training that he'd been doing earlier with Ariza because he felt he was slowing down. But strength training would be a great help for Mayweather because his lack of power was quite evident in his two fights against Maidana. If Mayweather had more power, he could have hurt Maidana with a lot of the shots that he was bouncing off of his head.