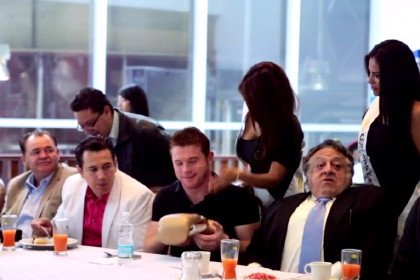 Strength and conditioning coach Alex Ariza is picking Floyd Mayweather Jr. (44-0, 26 KO's) to beat WBA/WBC junior middleweight champion Saul "Canelo" Alvarez (42-0-1, 30 KO's) in their fight on September 14th on the Mexican Independence Day holiday. Ariza sees Mayweather's experience being too much for the 22-year-old Canelo.
Ariza said on his twitter "I think Floyd's skill and experience will be the difference."
Ariza is probably right. Mayweather is much more skilled than Canelo is and ever will be. Canelo is only 22, but he's pretty much the finished product. He's not going to suddenly become fast on his feet, he's not going to get any faster, and he's certainly not going to get better speed wise.
This is as good as it gets for Canelo. I know Canelo's fans are excited that he used some head movement in his last fight against Austin Trout, but you have to remember, Canelo did this after learning that two of the judges had given him almost every round of the fight after the 4th and 8th rounds.
Canelo then went into a pure defensive posture that he would normally not be able to do if he didn't know what the scores were. Canelo was also fighting a guy that was mostly throwing jabs and not power shots. This made it easy for Canelo to just move his head.
Canelo couldn't do this if Trout was throwing power shots to his body and mixing his punches up. The lopsided scoring that the two judges had for Canelo, which were way out of touch with the actual that took place that night, enabled Canelo to fight in a way that he never has before. I don't see that as improvement. I see it as Canelo taking advantage of the open scoring that the World Boxing Council had for the fight.