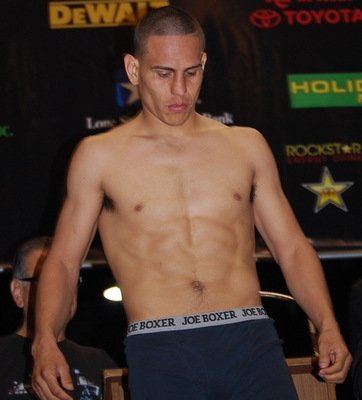 By Joseph Herron, photo by Esteban Stipnieks: After creating a massive buzz throughout the boxing world in 2010, Super Featherweight puncher Antonio Escalante (28-4, 19 KOs) suffered a massive hindrance to his fight career after dropping two consecutive bouts by surprising and head scratching knock-out.
Although the losses set the El Paso, Texas resident back in the pecking order of the ultra competitive Featherweight division, the overall experience has self-admittedly made the 27 year old fighter a much wiser combatant.
"I had been ranked as a number one contender for three years in the WBO without any big opportunities because I was viewed as a high risk/low reward type of fighter in 2010," insists Tony Escalante. "Right after I knocked Edel Ruiz out in the third round on ESPN's 'Friday Night Fights', I was given the opportunity to fight Daniel Ponce De Leon in a WBO title eliminator bout. The catch was that it was scheduled just three weeks after the fight on ESPN."
"I really didn't feel comfortable taking the fight on such short notice against such an experienced fighter, but my handlers advised me to take it because I wasn't getting very many big fight opportunities. It ended up being one of the worst decisions I ever made."
The heavy handed fighter was stopped in the third round of his bout with Ponce De Leon on September 18th, 2010, which was broadcast on the undercard of the HBO PPV "Mosley vs. Mora". All of the momentum in Escalante's career garnered up to that point came crashing down with one brutal right hook to the jaw.
After the devastating loss, Antonio's handlers advised him to part ways with veteran trainer Louie Burke and begin anew in Houston, Texas under the tutelage of world renowned boxing coach Ronnie Shields.
Looking back on his decision to relocate from his usual surroundings of El Paso, the promising young fighter regrets making the move.
"That was another unwise decision that I was talked into making. I didn't feel comfortable leaving my usual training area, where I like to run in the mountains of El Paso, and I never really got used to being in Houston. It was a horrible camp and I didn't prepare properly for my next fight. It was a nightmare."
After the loss to Ponce De Leon, Antonio fought again on March 25th, 2011, on Telefutura's "Solo Boxeo Tecate" against the unheralded Alejandro Perez and was stopped once again in shocking fashion with another right hook to the jaw; this time at the end of the opening stanza.
Just like that, after two consecutive knock-out losses, the Antonio Escalante express had officially been derailed.
"I was so discouraged after that," admits Escalante. "My contract had ended with Golden Boy Promotions and I thought I was done in boxing."
That's when the talented fighter decided to take matters into his own hands.
"I chose to start making the major decisions concerning my career once again and I went back with my old team of Edwin Rosario and Carlos Campos. I feel like I am in complete control again and it feels great."
Since suffering his last two defeats, Antonio has been on a tear, stopping his last four opponents impressively. Escalante also decided to make the move up to the 130 pound weight division and is focused on getting himself back into title contention.
"I signed a three fight deal with Golden Boy again and I'm starting to get back to where I want to be. I feel like I'm back on track and am really optimistic again. I've rededicated myself to the sport of boxing and am taking my career a lot more seriously now."
Tonight, the El Paso resident will take on 2000 Olympian Silver Medalist Rocky Juarez in the main event of a televised fight card. The 27 year old knock-out artist realizes that there is no gold at the end of his boxing rainbow without a big win against a very experienced puncher like Juarez.
"I know I can become a world champion and I'm going to take my career one step at a time now. I realize that I still have a lot of work to do, but I really feel that I'm on my way back to where I need to be."
The spectacular match-up will air tonight on Telefutura's "Solo Boxeo Tecate" at 12AM EST/11PM PST.
To attend the Leija-Battah/Golden Boy event, "Antonio Escalante vs. Rocky Juarez", live, tickets are still available and are priced at $125, $100, $75, $45 and $20 at all Ticketmaster outlets, online at www.ticketmaster.com and via Ticketmaster charge-by-phone lines at (800) 745-3000.