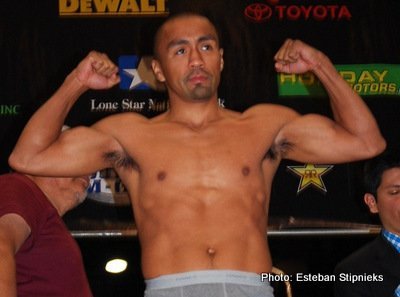 By Joseph Herron – Every young fighter dreams of one day becoming a world champion once they lace up the gloves for the first time.
But the commitment, discipline, sacrifice, and pain that every prizefighter is forced to endure is enough to turn even the most ardent of athletes away from the ring. Despite recognizing the various obstacles on the pathway to glory, every fighter indeed has a vision; and until they accomplish their ultimate goal, most of these brave warriors will continue to place themselves in harm's way for our entertainment.
2000 American Olympic Silver Medalist Ricardo "Rocky" Juarez (28-10-1, 20 KOs) still possesses this dream; and it still burns feverishly within him just as the first day he began boxing.
"My goal in this business has always been to be a world champion. I feel like I've been right there on the borderline. I've come so close and have been in a lot of great championship type fights. I know I have what it takes to do it. It just hasn't officially happened for me."
The Rock has certainly come unnervingly close to grabbing championship hardware throughout his storied fight career.
After beginning his professional career with a perfect 23-0 record, the hard punching Houston, Texas native was in line to face the WBC Featherweight Champion In-Jin Chi of South Korea in August of 2005. In what was billed as a possible "Fight of the Year" candidate, the highly anticipated match-up was slated to air on HBO as the co-main event of the Fernando Vargas/Javier Castillejo spectacle.
But two weeks before the scheduled bout, the incumbent champ pulled out of the big event with an injury and left the hungry Texas fighter without a dance partner. While Juarez was fully aware of the numerous dangers in taking on a last minute replacement at the championship level, the former 2000 Olympian felt that he couldn't be denied in his quest for championship glory.
His eleventh-hour substitute was eventual three division world champion, Humberto Soto of Tijuana, Mexico.
Though the talented young fighter ultimately lost his Championship opportunity to Soto via twelve round unanimous decision, Rocky Juarez refers to that unfortunate turn of events as a snapshot of his entire career.
"I look back on that time and I question why it had to happen the way it did. I was ready and so focused for In-Jin Chi. I knew it was going to be a great fight and I knew I was going to be champion. After he backed out of the fight I was deflated and my heart went out of the entire event. It eventually showed in my performance against Humberto Soto."
"I got another title opportunity in 2006 when I fought Marco Antonio Barrera. I knew I was going to win that fight and I thought I did. The judges didn't see it that way but I think all of the fans did. I felt that I really became a champion that night."
"The same thing happened to me when I fought Chris John in Houston. I felt that I won that fight as well. I've fought in a lot of great fights and I've faced a lot of great fighters. I feel like I've beaten several of them and truly feel like I am an uncrowned champion in boxing. I know I should have won a world title after some of my fights but it just wasn't awarded to me."
Although Rocky is now 32 years old, he continues to grasp at the seemingly elusive championship title. While many veteran fighters stay in the ring out of necessity, the experienced pugilist claims that the sport of boxing continues to be his labor of love.
"It's still my goal. As long as my body still allows me to compete at a very high level, I'll always have the heart and the mind to chase after my championship dream. I ultimately continue to fight because I still can and more importantly because I still love it. I choose to do this, not because I have to."
While Juarez hasn't claimed victory since knocking out Argentine Jorge Barrios in 2008, in what was a brutally magnificent spectacle, "The Rock" feels that he is still capable of beating the best in boxing. But before he climbs any further towards the grand pinnacle of boxing, he has to get past the always dangerous Antonio Escalante of El Paso, Texas on Saturday night, October 27th.
"Tony is a very dangerous fighter and is one of the hardest punchers in the division. But this is one of the reasons why I still fight. A fight against a good, good fighter like Escalante is an exciting match-up that I know is going to be a great fight for the fans. I love to get up for fights like this and this is why I still love to fight."
Even though tonight's contest will be a very tough test indeed, Rocky feels very confident going into the bout and genuinely likes his chances against the hard punching Super Featherweight.
"I feel great and I'm actually having an easier time making weight now at 32 years old. I think it has a lot to do with the fact that I've become wiser as I've gotten older. I actually think I can make 126 pounds. I know it would be difficult, but I really think that I could do it."
If Juarez is successful in Saturday night's main event, he would love the opportunity to face a specific title holder in the Featherweight division.
"My goal has always been and continues to be to capture a world championship. If I'm successful in defeating Antonio Escalante, I would love the opportunity to face current WBC Featherweight Champion Daniel Ponce De Leon. I saw him win the title in Las Vegas last month at age 32. We both came up in the Olympics at the same time and I think it would be a great fight. If Ponce can win a title at age 32, I think I can win the title at 32 as well."
"I feel in my heart that I can beat Ponce De Leon, and I think it would be one of the best fights that could be made at 126 pounds right now."
Can Rocky defy the odds and further his quest in becoming a world champion?
We will find out tonight when he faces the hard punching Antonio Escalante at the Freeman Coliseum in San Antonio, Texas.
The spectacular match-up will air tonight on Telefutura's "Solo Boxeo Tecate" at 12AM EST/11PM PST.
To attend the Leija-Battah/Golden Boy event, "Antonio Escalante vs. Rocky Juarez", live, tickets are still available and are priced at $125, $100, $75, $45 and $20 at all Ticketmaster outlets, online at www.ticketmaster.com and via Ticketmaster charge-by-phone lines at (800) 745-3000.