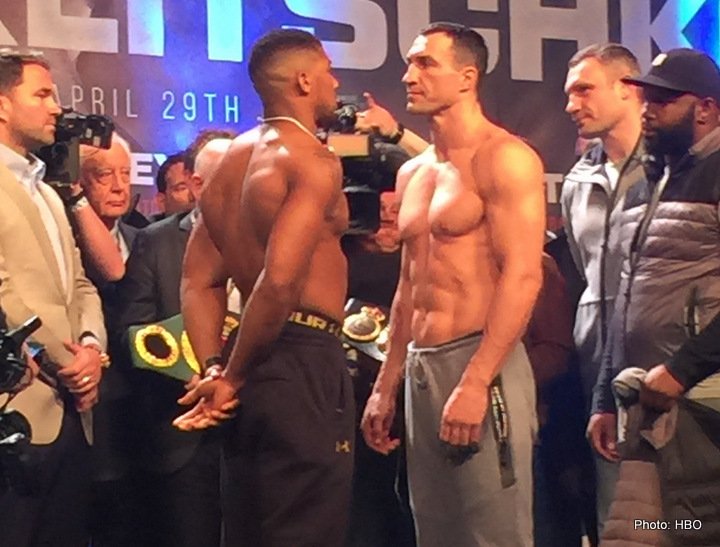 90,000 crazed fans will fill Wembley Stadium to root on their countryman Anthony Joshua in his quest to take the boxing world by the balls. Standing in his way is the former kingpin of the heavyweight division Wladimir Klitschko. It's a classic tale of youth versus experience in a vintage match that could tilt the balance to the next generation.
If Joshua wins, especially convincingly a new era will be ushered in not just in the division but a new star will be born the world over. A Klitschko victory heightens his long-term legacy and at the same time cheapens the rest of the division to an extent moving forward besides Tyson Fury.
Just how much does Wladimir Klitschko have left in the tank facing a primed athletic fighter? Hopefully for his sake more than what was on display back in late November 2015 in a lopsided defeat to Tyson Fury. To pile on a foothill of reasons why the Ukrainian native is the betting underdog, is the old saying of father-time remaining unbeaten. If that's the case, Saturday the dreaded father-time could feast on an aged man returning from his longest stretch of inactivity.
Will Anthony Joshua take his seat at the table or end up on the menu? The boy who grew up some ten minutes away from Wembley Stadium gets to prove if he's a full grown man on the highest level. Joshua looks every bit the part of an athletic power-puncher mixed with solid technique. The only time AJ has faced the slightest bit of adversity as a pro was in the second round of entertaining bout with Dillian Whyte. Joshua let their personal rivalry dating back to the amateurs affect him getting rocked with a punch that had the big man buzzed. Since that moment the 2012 gold medalist from Great Britain has taken a more patient approach. Surely he will be focused and conservative in route to closing the distance on Klitschko.
The outcome of this super fight will be decided from the most basic punch in the book, a jab. Klitschko throws his jab straight and hard doing most of the damage to opponents over his near-decade reign as undisputed champ. Once established, Wladimir follows the jab with a sledgehammer of a right hand as well as a left hook once comfortable.
It's Joshua's duty to make sure Klitschko is weary of incoming shots making him hesitant and indecisive offensively. If Anthony can't adjust to the jab it will be a long (or short) night filled with one clean land and a grab on the inside. That's not to say AJ's jab is poor, it's not and he will attempt to unload his arsenal behind his jab instead of settling for pot shots.
Another intriguing item on the list is each fighters chin and which one will hold up under the lights. For all of Wladimir's dominance it's well documented that his chin can be touched up, it's a matter of being close enough without getting tied up to put a dent in it.
Plenty of rumors hover around sparring sessions and as an amateur claiming Anthony Joshua's chin has some holes. Adding serious power punching by both giants gives reason to be on the edge of your seat as a spectator not because a war will be waged but the suspense knowing at any moment the fight could end.
It's fairly plain and simple really. If Joshua can't catch-up to Wlad's jab within the first say four rounds he won't win. He will still have a punchers chance but the longer the fight drags on the more tired and frustrated AJ will get. If Joshua can begin to time the jab or at least limit it by being first with his jab, he'll eventually breakdown the proud Ukrainian.
This is where age comes into play in the form of reflexes and being able to actual hold Joshua effectively as he has with other smaller men in the past. It will be surprising to me if Joshua doesn't have some, if not major troubles in the early goings dealing with Wladimir's potent jab. At a certain point Joshua will show his patience and overall offensive talents mixed with defensive responsibilities.
Lack of reflexes due to age combined with a long layoff will retire Dr. Steelhammer but his ability to land and clinch will keep him upright or at least on his feet after 12 rounds. The thought of Wlad down on the all scorecards in the Tyson Fury fight and not showing any real desperation is troubling. Then again Joshua hasn't gone past the 7th round and with all those muscles he's bound to get gassed. This podcaster is banking on Anthony Joshua finding his second win after early problems.
My official prediction is Anthony Joshua by Unanimous Decision
Written by Chris Carlson Host of the Rope A Dope Radio Podcast available at blogtalkradio.com/ropeadoperadio Subscribe on iTunes, Player.FM, Tunein, & Stitcher. Visit The Rope A Dope Podcast YouTube Channel & Follow on Twitter @RopeADopeRadio