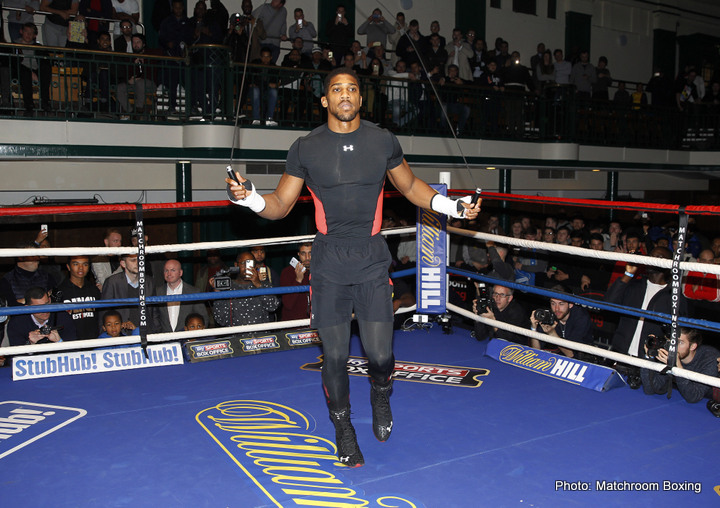 With the seemingly close – in fact, tantalisingly so – Anthony Joshua-Wladimir Klitschko fight now looking doubtful due to the WBA's indecision on sanctioning the fight, promoter Eddie Hearn has again began looking for the reigning IBF champ's next challenger. Joshua, 17-0(17) will fight as planned on December 10 in Manchester, "with or without Wladimir Klitschko."
Hearn, speaking with Sky Sports, spoke about the talk in Germany that suggests Klitschko – who will only fight Joshua if the WBA title is on the line – is now looking at facing another opponent himself before the end of the year.
"With the hold up from the WBA, we need a little more time, so regardless of if it's Klitschko or not, AJ will return on December 10 in Manchester," Hearn said. "We are beginning discussions with other opponents now while crossing our fingers that Klitschko takes the fight, regardless of how many belts are on the line. In an ideal world, there would be as many belts as possible on the line, but I hope he takes up the challenge rather than a soft touch in Germany."
Regarding who the "soft touch" Klitschko might face at the end of the year, there are currently all manner of rumors: could it be Lucas Browne, who has been promised a second title shot by the WBA? Could it even be a rematch with David Haye with the vacant WBA belt on the line (Haye Tweeted yesterday how he has "a big announcement" set for some time today)?
As to Joshua's Dec 10 opponent, who might it be if it's not Klitschko? Currently, fighters such as Eric Molina, Jarrell Miller and even Shannon Briggs are standing by, hoping. Or maybe AJ will do what Joseph Parker and his team were hoping he would do, and face his mandatory challenger on December 10.
If we're lucky, we will get to see both Joshua and Klitschko in action, in good fights, before the end of this, one heck of a muddled year for the heavyweight division, comes to a close.