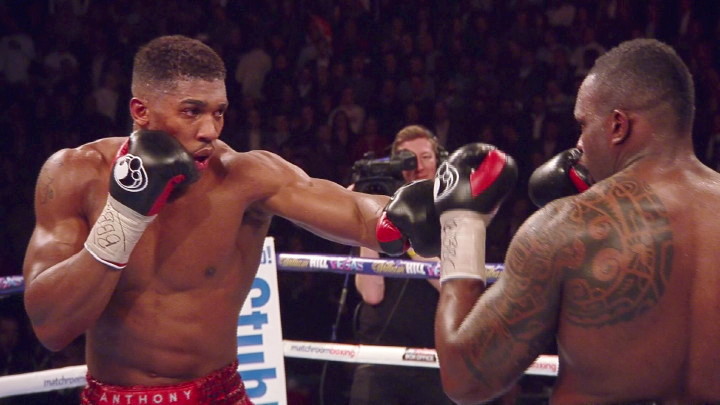 Unbeaten British heavyweight hope Anthony Joshua is a level-headed kind of guy, and he realises he has plenty to learn before he is ready for the division's elite. The 2012 Olympic gold medallist may well rip the IBF version of the heavyweight championship from Charles Martin a week today, but Joshua – as he told Forever Sports magazine – will not feel anywhere close to satisfied. That sense of satisfaction will not come, Joshua said to the magazine, until he has become undisputed heavyweight champion.
Fight fans, and promoters, can be impatient at times, however, and already, before he has even challenged for the IBF strap, people are excitedly talking about mouth-watering potential match-ups involving "A.J." But fans wanting to see Joshua – who will be making one, perhaps two voluntary defences before his first mandatory will be scheduled for January of next year – against the likes of David Haye and Tyson Fury will, it seems, have to wait.
Joshua told Forever Sports that he will have "voluntaries" after he's beaten Martin, and that he would "like to fight Bryant Jennings, Hughie Fury, Malik Scott, that sort of level really" as he makes the first defence or defences of his new belt. As a new and still inexperienced "world" champion (a "big, raw novice," according to Tyson Fury) Joshua will be entitled to a "safe" first defence of his new title. And, with all due respect to the fighters Joshua listed, he would likely be a firm favourite to defeat either one.
A Joshua-Hughie Fury fight would prove very interesting; as a fight itself and due to the further hype an eventual Joshua-Tyson Fury fight would receive. Imagine if Joshua were to KO Hughie, Tyson's cousin – how would the reigning heavyweight champion respond? You know how Tyson would respond: he'd respond with bombast and vow to "smash" or "destroy" Joshua, very much getting the British public excited in the process. Job done: a Tyson Fury-Joshua clash, next year in a cavernous stadium, would be sold-out, with both big men (and their respective promoters) pocketing an absolute ton of cash.
But while a Joshua-Hughie Fury fight for the IBF title would be a big deal in the UK, the other possible defences Joshua listed are not quite as intriguing. Joshua against Jennings, though a good fight, would not be viewed as anything close to a 50-50 affair (there would, though, be some judges/fans willing to give the tall and gifted Hughie Fury a shot at derailing Joshua) and Joshua would likely enter the ring as a big favourite to KO Scott (who, though talented, has never been forgiven by fans for his quick capitulation at the hands of Deontay Wilder).
In short, fans are more than likely going to have to be patient in their desire to see Joshua swapping leather with the big names of his division. A young fighter, soon to be champion, Joshua is in it for the long haul and the super-fights will come in time. Maybe in a year's time.