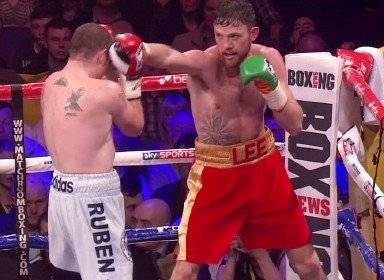 WBO middleweight champion Andy Lee's defence of his title against Hatfield's Billy Joe Saunders, that was scheduled for Thomond Park, Limerick, Ireland has been postponed until October 10th and moved to the M.E.N Arena in Manchester, England.
In a joint statement last night from co-promoters Frank Warren and Adam Booth, it was claimed the Irishman is suffering from a virus that means the September date was potentially in jeopardy;
"Andy's had a virus and he's recovering from it, or he's about recovered from it, according to Adam Booth, who's contacted me.," Warren said.
"He said he should be okay to fight on that date (September 19), but he won't know for another couple of weeks. Unfortunately, I can't have that uncertainty and I don't think it's fair to the fans or to anybody, or even fair to Andy, so what I've said is we need to move the fight, push it back a couple of weeks, so he's 100%.
"The next (free date for Thomond Park) is the October 31 and if it's an open-air show, I don't think we'll be selling many tickets (because of the weather), so we're stuck," said Warren.
Perhaps a more cynical writer might suggest that ticket sales for the event were already way below projections, given that Limerick is not the easiest in terms of travel and securing decent, affordable accommodation for travelling English fans – even in comparison to say, Dusseldorf, Germany, where thousands are expected to travel for Tyson Fury's challenge to Wladimir Klitschko and have done many times before for Brits fighting in the country.
Also with neither fighter having a huge ticket selling fanbases, it's also believed that filling the 25,630 (15,100 seated) venue was becoming a monumental struggle, especially without Irish female amateur standout Katie Taylor, whom Lee had wanted included on the card before it was confirmed she wouldn't be apprearing.
Along with the likes of Irish mma fighter Conor McGregor, Taylor is one of the most recognisable sports figures in the country and would have been a huge draw on the Lee side of the card.
Moving to the 21,000 capacity MEN Arena arguably makes much more sense geographically, and with local lightweight world champion Terry Flanagan added to the bill, it's now possible to see the event becoming the success it deserves to, as excluding all these politics, Lee v Saunders is a cracking little fight on paper and it will surely sell much better in it's new date/place.
Of course, Warren disputes the allegation the fight was suffering poor sales, claiming that 12,500 tickets had already been sold. He is however, open to the possibility of a rematch should the fight live up to it's billing.
"Depending on the outcome of the fight, if it's a good, close fight, we can obviously do the rematch in Limerick in the spring. If Andy wins, I'm sure he'd like to — that's his ambition and obviously I know he's disappointed he's not fighting there [in September] — so there's a lots of options open," he said.
On social media, Saunder's wrote, tongue rammed firmly in cheek;
"If Lee wants, we can have it gipsy style in a field!"
He then followed up with an apology, even though it's totally out of his hands, also promising lucky fans a chance to win tickets;
"Sorry to all the ENGLISH and Irish fans about Limerick date. It is what it is. It's 10 of October Manchester who wants tickets, get at me."
"I'll be giving away ten free tickets in a lucky dip so keep posted."
Twitter @Undilutedpoison