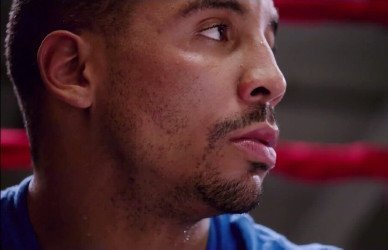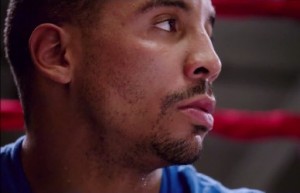 In the sport of boxing, the first shots of battle are often fired long before a single punch is ever thrown in the squared circle.  
On November 16th, two genuine "good guys" of the sport will tangle to decide 168 pound supremacy when universally recognized Super Middleweight Champion Andre "S.O.G." Ward steps in the ring with undefeated contender Edwin "La Bomba" Rodriguez.   
Despite the positive and sportsmanlike reputation both combatants have garnered throughout their respective amateur and professional careers, an unexpected issue has worked its way into the pre-fight banter.  
During the first official press conference, which took place in Manhattan Beach, California, on September 28th, announcing the big Super Middleweight showdown, Rodriguez declared that he would indeed be participating in the "24/7/365" drug testing program administered by VADA, Voluntary Anti-Doping Association, and publicly challenged the historically outspoken anti-drug advocate to get involved with the same program before the date of their highly anticipated championship contest.  
Although Ward has stated on numerous occasions that he has no problem taking any random drug test, the defending champion has not yet accepted the offer to participate in the pre-fight VADA drug testing program, according to Team Rodriguez.  
"Andre has stated that he's not opposed to VADA pre-fight screening, but still hasn't gone through with the program," claims Edwin Rodriguez.  "Why?  I could understand if he had to pay for it out of his own pocket, because it is quite expensive.  But our sponsor is willing to pay for Andre's testing as well.  I'm taking a stand for the good of the sport, and I'm really disappointed that Andre has only taken a verbal stand and hasn't followed through with his actions."  
Admittedly, Edwin Rodriguez doesn't believe Andre Ward to be a "dirty" fighter.  But the 28 year old title challenger does feel strongly about ensuring a level playing field.  
"I'm not saying that he's currently using any kind of performance enhancing drug.  I think Andre is a great champion and one of the best representatives of the sport.  But I just find it very odd that a fighter like Andre Ward wouldn't want to go through with the VADA administered drug testing before such a big fight.  This kind of drug testing ensures absolute fairness in the ring.  This isn't baseball or basketball.  This is a dangerous sport in which we hit each other repeatedly to the body and head. I just want to make certain that I'm involved in a clean sport, and I'm taking a stand to promote fairness in boxing.  I would like to think that Andre feels just as strongly about this issue and is willing to take this stand as well."  
When contacted about Team Rodriguez's position regarding the drug testing issue, Ward's trainer Virgil Hunter was very candid and forthcoming.
   
"We think it's great that Edwin is involved in the VADA year round drug testing program, and that's his prerogative to do so," states the experienced boxing mentor.  "But if he wanted to make this an issue, he should have brought this up during the pre-fight negotiations. The negotiations were very long and drawn out, and never once was this issue ever discussed.  You just don't do something like this at a press conference."  
"I thought someone asked a great question during the press conference. Someone asked Edwin if he had any reason to suspect Andre of using any kind of performance enhancing drugs?  Edwin's response was that he knew Andre was a clean fighter. So why did he bring it up then?  That's the question that he should be answering at this time.  If Edwin knows that Andre is a clean fighter, then what was his point in even bringing this up in front of the media?"
"I think it's somewhat disrespectful," stated Virgil Hunter.  "You don't come at the champ with those types of questions in front of the media after you've just been granted a shot at the title and your biggest payday to date, especially when Andre has given no reason to suspect him of any wrong doing."
On Sunday night's episode of "The Pugilist KOrner", Edwin's veteran trainer, Ronnie Shields, provided more insight and clarity as to why this issue was introduced at the initial press conference on September 28th, and not the contract negotiation table.
"Edwin wasn't given the opportunity to participate in the VADA "24/7/365" testing program until after the final negotiations had already taken place between Lou DiBella, Dan Goossen, and Al Haymon," claims the lifelong boxing proponent. "Bringing this up at the press conference was not something that was meant to be incriminating."
"I think most are jumping to the wrong conclusion because of how poorly drug testing issues in the past have been handled through the media concerning some of the biggest names in the sport. Edwin's gesture was intended to promote sportsmanship and fairness within the sport of boxing, and not to accuse anyone of any wrong doing."
"Because Andre has a history of being such an strong advocate against the abuse of performance enhancing drugs, we assumed that he would have no problem participating in the VADA drug testing program to promote this positive agenda for the sport of boxing."
"His response was unexpected. This has nothing to do with Edwin disrespecting the Champion, and I'm sorry that he's taken the gesture that way. This is about the good of the sport and promoting a strong anti-drug position."
Perhaps the experienced fight trainer is correct when stating that the perception of this issue has been skewed due to the widely scrutinized depiction of events that occurred while Manny Pacquiao and Floyd Mayweather Jr. were supposedly negotiating a proposed mega-fight in 2009.
As a result of slanderous comments publicized through the media, Pacquiao filed a defamation suit against both Oscar De la Hoya and Floyd Mayweather Jr. in 2010. Both Mayweather and De La Hoya publicly questioned the integrity of the Filipino Congressman, stating literally and insinuating that his rise to super stardom was directly attributed to the use of performance enhancing drugs.
But if awareness and sportsmanship are indeed the motives behind the actions of Team Rodriguez, then why is Edwin and company so persistent in addressing the drug testing issue with the current pound for pound fighter?
In recent championship fights, Ruslan Provodnikov and Timothy Bradley participated in the VADA drug screening program before their respective bouts, while their opponents chose not to. Both title fights went off without a hitch, with the two VADA testing representatives winning their own particular contest.
If the drug testing issue doesn't impede the status of the prizefight on November 16th, then why press the issue of pre-fight drug testing?
Trainer Ronnie Shields explains.
"Brandon Rios and Manny Pacquiao subjected themselves to VADA pre-fight testing because this issue has been brought to the forefront of boxing in recent years. Both fighters agreed to do this after the fight contracts had already been signed. They didn't have to do this. They did this because they're leaders in the sport of boxing, and more is expected from them as result."
"If Edwin and Andre want to be viewed as leaders in boxing, then they should subject themselves to this treatment as well. Why should it have to be negotiated in a fight contract to prove that they're intentions are to clean up the sport of boxing? Especially when you consider that the expense of this testing won't be coming out of either fighter's purse. There's no reason not to take the test at this point."
Regardless of the position both camps have taken concerning this controversial issue, the fight will indeed take place as scheduled.
Will this polarizing issue have an affect on both competing fighters come November 16th?
Fight fans will have to tune in to find out. The fight will go down in Ontario, California, and will be broadcast on HBO Boxing After Dark.
Trainer Virgil Hunter will be featured on Tuesday night's episode of "The Pugilist KOrner". The prolific fight trainer's segment is scheduled to begin at 10PM EST/7PM PST.