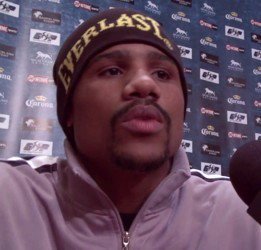 By Bill Phanco: 29-year-old former super middleweight contender Andre Dirrell (20-1, 14 KO's) will be making his long awaited ring return next month on February 2nd at the Convention Center in McAllen, Texas. Dirrell still doesn't have an opponent for the fight despite it being only a week a half away from the fight. Dirrell last fought well over a year ago in beating Darryl Cunningham by a 2nd round knockout.
Before that, Dirrell hadn't fought in a year and a half since beating Arthur Abraham by an 11th round technical decision in the Super Six tournament back in March 2010.
Dirrell has great hand speed and skills, but he's going to have to seriously get his career in gear on the fast track if he wants to amount to something. Dirrell can't afford to fight once a year if he wants to capture a title. What Dirrell needs to do is try and fight at least 8 times in 2013, so he can be in position to fight for a world title in 2014.
Dirrell needs to say yes to some of fights that are offered to him because he could have fought Adonis Stevenson not too longer and but he reportedly declined to take the fight. A win over Stevenson would have really opened some doors for Dirrell in terms of getting a title shot against one of the big names.
Dirrell has one loss on his resume in a 12 round split decision defeat the hands of Carl Froch in 2009. Dirrell fought well enough to deserve a decision in that fight but the judges didn't seem to like some of the clinching that Dirrell did in the fight in the second half.
Dirrell's fight on February 2nd will likely see him fight a lower level fighter so that he can work on his sharpness. If Dirrell looks good in this fight he could have a lot of interest from other fighters to face him. What Dirrell needs is to get back on Showtime or HBO so that boxing fans can see his fights.