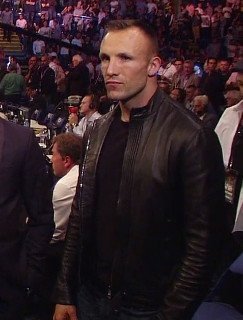 By Michael Collins: Eddie Hearn of Matchroom Sport plans on making the rematch between Carl Froch and Mikkel Kessler a pay per view bout on Sky Box Office. This apparently is needed in part to help out with the costs of the contracts for Froch and Kessler, both of which will be receiving 2 million pounds are more for the fight. The PPV part for the fight will be finalized by next week, according to the Telegraph.
Hearn said in an interview with the telegraph.co.uk "For a fight of this magnitude like Froch-Kessler to take place, pay-per-view is a necessity."
Sky TV got out of the PPV business following some disastrous bouts like the Audley Harrison vs. David Haye fight in 2010. It's interesting that Sky TV will get back into the PPV boxing business for Kessler-Froch rematch.
Thus far the demand for the tickets for the Froch-Kessler 2 fight has been high and this turn has shown the possibilities for the fight on PPV.
A lot of British fans won't like the idea of having to pay to see the Froch vs. Kessler II rematch because they're already paying a lot for their cable bills already. While it's true Kessler and Froch are both champions in the division, neither of them are considered to be the best at 168. They both got exposed by Andre Ward in the past and neither of them has chosen to fight Ward again despite the fact that Ward has volunteered to fight either of them if they're willing.
For this reason it's hard to imagine paying to see the fight because it's like paying to see a consolation bracket among fighters that were beaten by the top guy in the division. Kessler was easily beaten by Ward in 2009 in the Super Six tournament, and Froch was also beaten fairly easily by Ward in the finals of the tournament but with some very odd set of scores for two of the judges. Is the Froch-Kessler rematch a PPV worthy? I guess it's a subjective thing, but for me, I can't see that it's worth anything, not even 1 pound. I don't like the idea of paying to see two guys that were beaten by the top guy. It just doesn't seem normal.