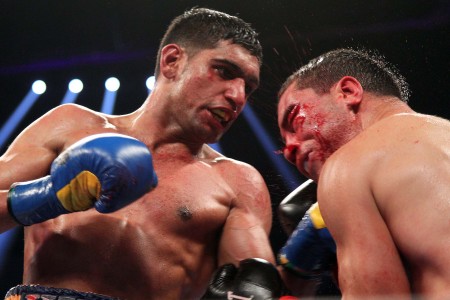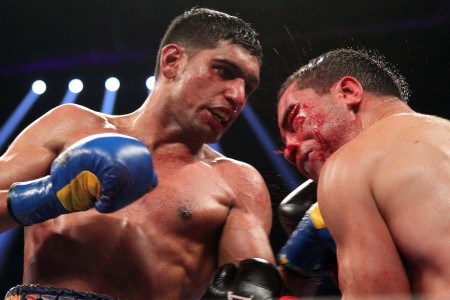 Amir Khan is slated to fight Devon Alexander for the IBF welterweight title on December 7, 2013. Khan has had nothing but title fights since his first loss at the hands of Breidis Prescott. The only exception was his last fight against Julio Diaz which was a non-title bout that Amir got up from a 4th round knock down to win by UD. That makes of 12 fights for different titles and he won 9 of them.
Amir's loss to Prescott came in a lightweight title bout in 2008 via first round KO. It was a deep, heavy fall and it didn't look like Khan could ever beat Prescott. My view then was that Khan wasn't made for professional boxing despite his stellar amateur career. He bounced back and moved up to light welterweight to have all those high profile fights.
Unlike other high-profile fighters who have a dedicated fan following, Khan has a bandwagon of nay-sayers and very few fans support him even in his own country. He is someone fans love to hate.
Most of the criticism against Amir Khan is completely justified. Criticizing is easy and I could expose mistakes in his style his inspired critics may not know to exist. Instead I would venture some hesitant support for Khan and I'd offer several guidelines for improvement. My humble advice is as follows:
Change your footwork to an economical glide and plant your feet for at least one punch in a combo. Get off the toes for the solid shot and get back on them and evacuate the moment you are done.
Forget the long risky flurries of four and more shots. "Shoe-shining" takes up a lot of energy without doing too much damage.
Use no more than three punches in a combo and use one big shot (hook, cross, uppercut, swing, Nelson, straight right) in each combo.
Learn and maintain correct head position at all times. Changing from penguin to Mexican shrug would be a good idea. Shoulders are your chin's best friends.
Go in and go out of range equally fast. Staying in range will only activate the other guys instincts. Admiring your own work from up close already cost you dearly.
Do not out-speed yourself, hitting the block meant for your jab with the right hand too won't be scored. Vary your speed of attack.
Forget about short range, it bites harder than you can tolerate. Work on your defense instead. Move your head. Body movement is absent, find some agility in your waist, use your legs defensively. Learn to survive in-fighting – grab and hold briefly, tie him up and push/wrestle away. If Floyd does it, who are you to act tough? You don't have the mindset, dexterity, strength, will, caution and survival instincts to fight on the inside.
Throw at least 5 strong body shots per round (separately, not all at once).
When you slip, duck, side step or simply back away, try not only to escape the attack but try to stay within striking distance. Within your firing range, not his. If you think defense and offense are two separate things, you'll get caught slipping in-between.
Your best asset is your speed, but you manage to turn it against yourself. You turn speed into haste and in your anxiety you forgo the basics. That's why they are called the basics, you go down without them.
You need functional speed. Prancing around and slapping half-heartedly quickly only tires you faster. Compromising technique and form will not save you time, it will save you impact and efficiency. If speed is not incorporated into solid skills, it turns into haste.
Speed is power only through technical discipline. Without the basics you have no skills.
Power is a mystery, you either have it by birth or you live without it. You are not using your full potential to hit hard, you are too much in a hurry to score. Once in a while stomp the feet and push from the leg for full body rotation and full body weight transfer. Go for fist-elbow-shoulder alignment and explode on the target with every ounce of manhood you can master. Don't expect miracles but whatever happens, you will appear organized and focused.
Opponents like Garcia will think twice before they walk into your flurry knowing you can't hurt them before they hurt you.
That should be enough for starters, I have too many more updates for Amir Khan but the basics can not be replaced or postponed. Defensive discipline is a must at all times, you can take a break from offense and game plans but you can not take a break from defense. It is the difference between stepping stones and solid contenders, between a laughing stock and a respected pugilist.